"Thy fertile gifts, which looks of love reward,
Where the bright eyed peasants tread the verdant sward.
Thence sailing north, and veering to the west,
On Amrakuta's lofty ridges rest;"
Traversing the curvy roads wrapped in lush green forests to Amarkantak, I was reminded of these lines from 4 th century CE's famous poet Kalidas's Meghdut a. Amarkantak or Kalidas referred Amarkuta is located at the meeting point of Vindhya and Satpura ranges with Maikal hills. Amar means immortal and Kantaka means obstruction. Amarkantak is the magical melting pot where history meets myth, and beauty finds peace.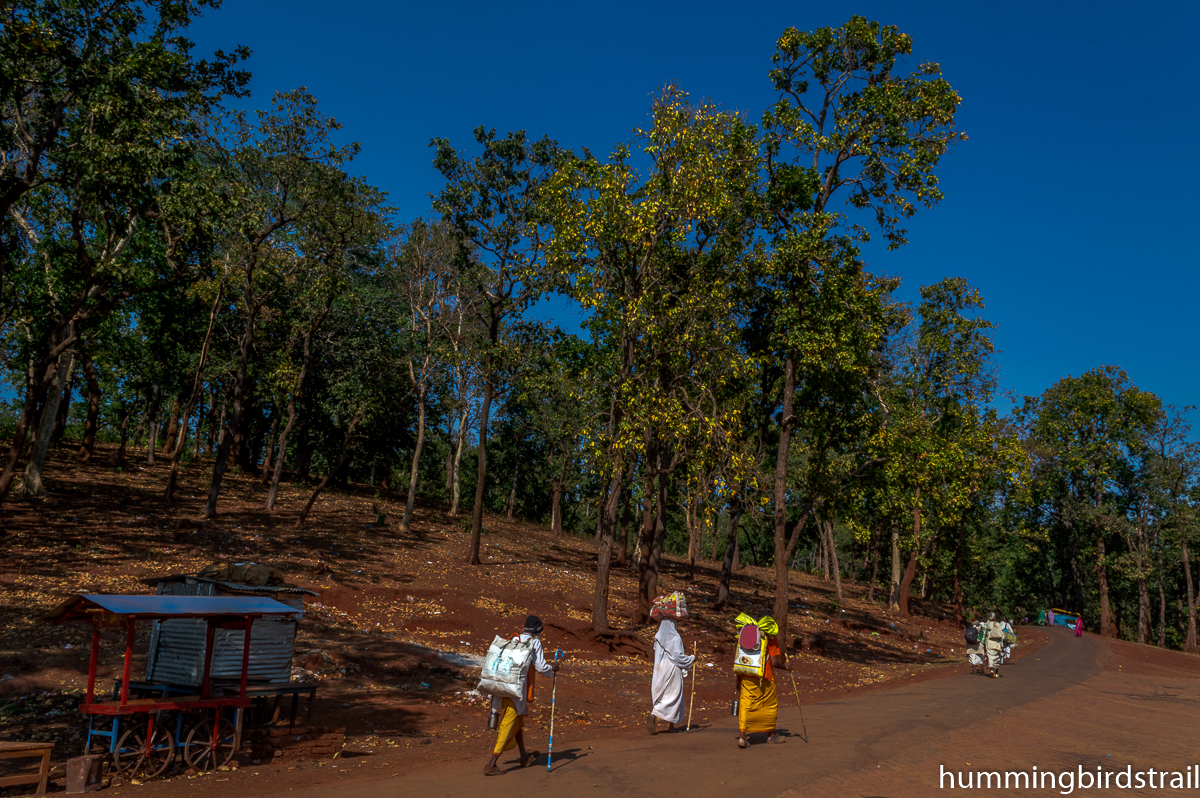 Amarkantak is a Nagar Panchayat or City Council in Annupur, Madhya Pradesh, India. It is also called Teertharaj or the 'King of Pilgrimages'.  Three rivers originate from this holy city and they are Narmada, Sone and Johila. It is interesting to note that all Indian rivers drain in the Bay of Bengal to the east, while Narmada and Tapti are the only rivers that fall into the Arabian Sea to the west of India.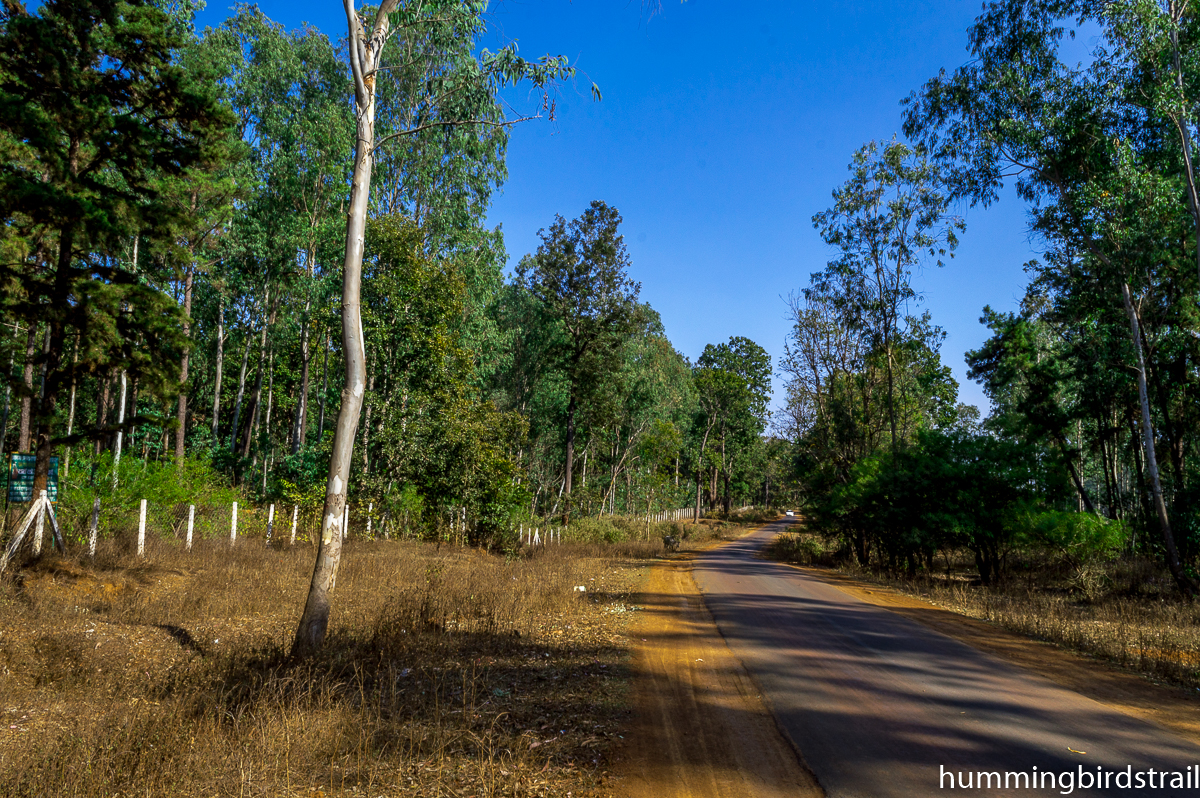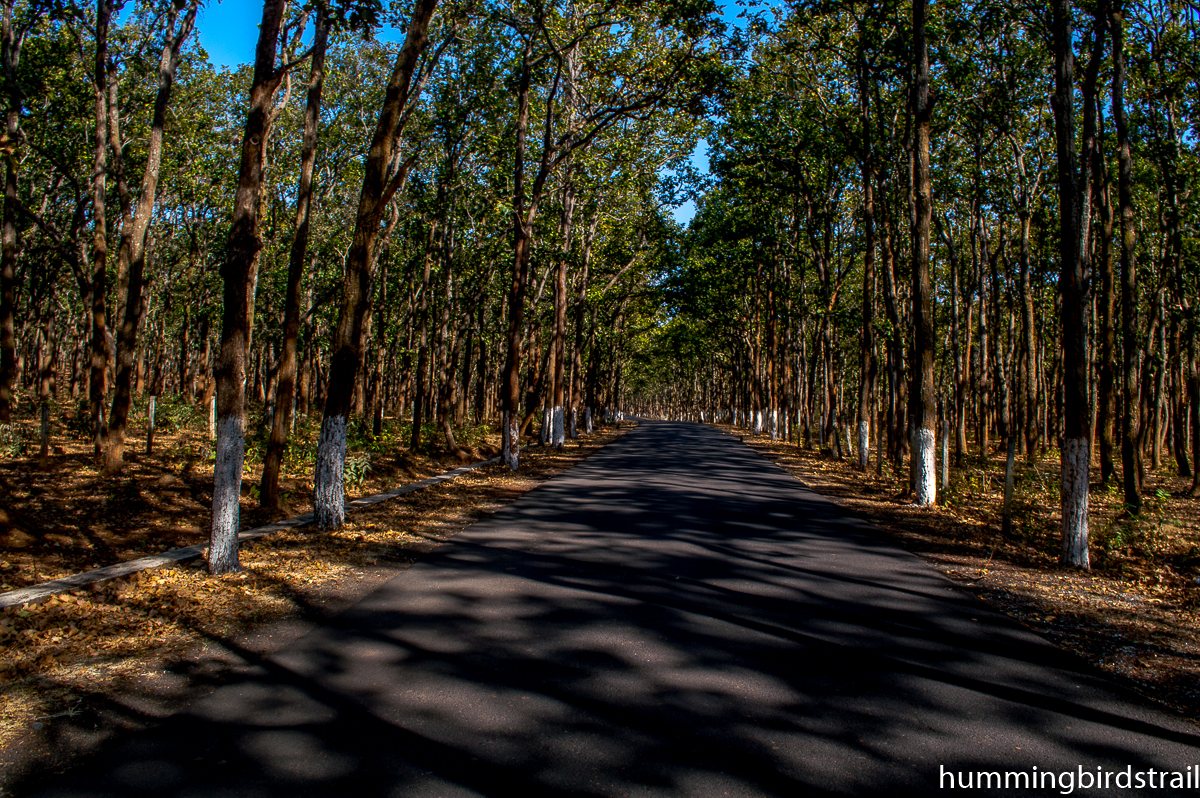 You can reach Amarkantak by road from the Pendra Road Railway Station in an hour, as we did, all the while getting amazed by the serenity around you. A quick freshening-up session followed at the hotel, and we hopped into a car, all ready to drink more of the exuberance all around us.
Our first destination was Kapildhara waterfalls. It is located 06 km from  Narmada Kunda and the sacred water of Narmada flows in these falls. This place is named after the famous Indian sage Kapil, who is believed to have resided here. The adjoining hills have a multitude of caves that once served as the respite of sages who came here in their quest for Nirvana. We too found a group of hermits who were travelling through the cavernous hills steeped in lush greenery capped with the azure sky. The quest for Nirvana continues!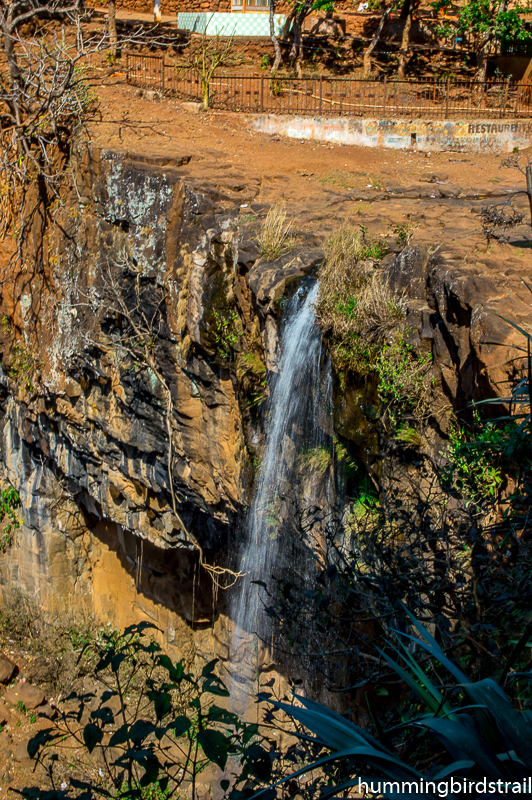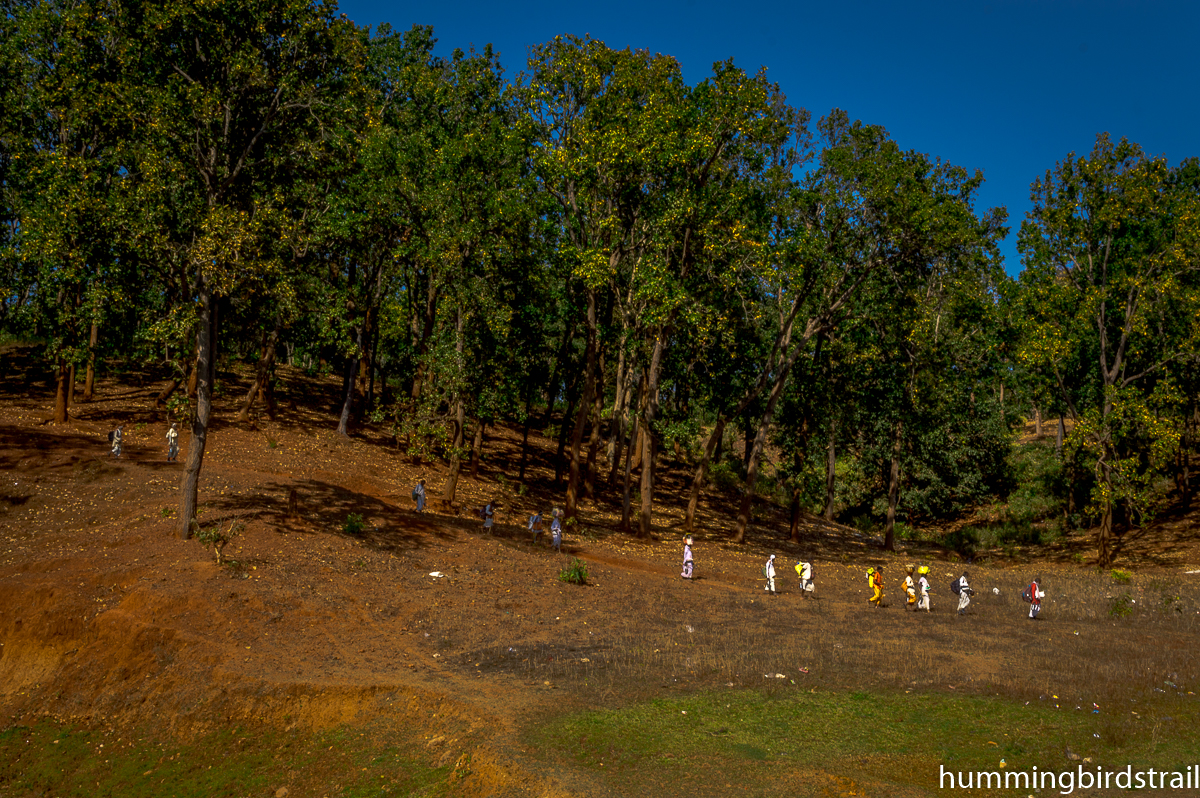 The next stop was at the Doodh Dhara falls, which were missing their full regalia because it was only February, and we could have found them in full glory, had we travelled during the monsoons.
Amarkantak is also religiously significant by the fact that Gods, Gandharvas (celestial beings) and Asuras (demons); all three are worshipped here. For a practising Hindu, this would feel very unusual as the Gandharvas and Asuras are not often given the honour of such worship. Maybe, it was this speciality that had attracted so many saints and sages to this holy place from the ancient times, or it may be the other way round. Either way, it is a popular belief that whoever dies in Amarkantak, shall stay in heaven after death.
Next, we went to Shri Sarvodaya Digambar Jain temple. Construction was going on by and large, while kaarigars (artistes) were busy sculpting beauty and life into stones. This was going to be one place of exemplary artistic excellence once it got completed.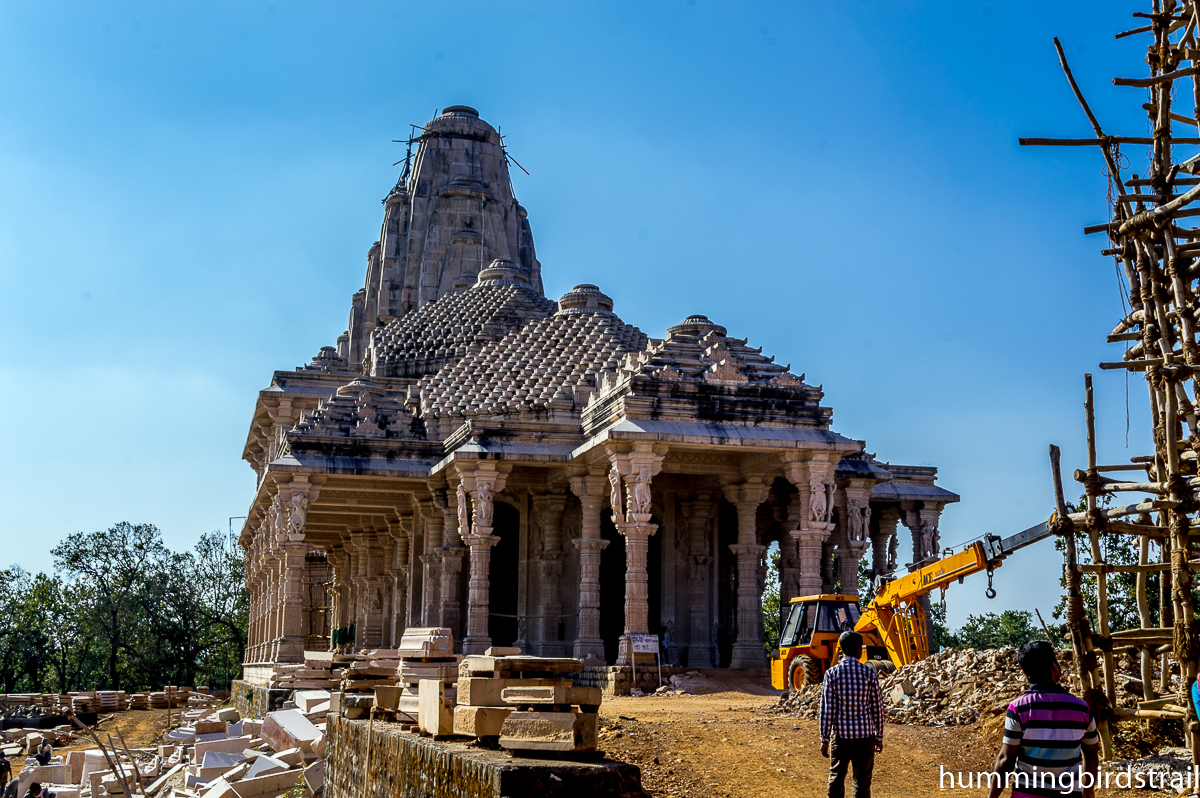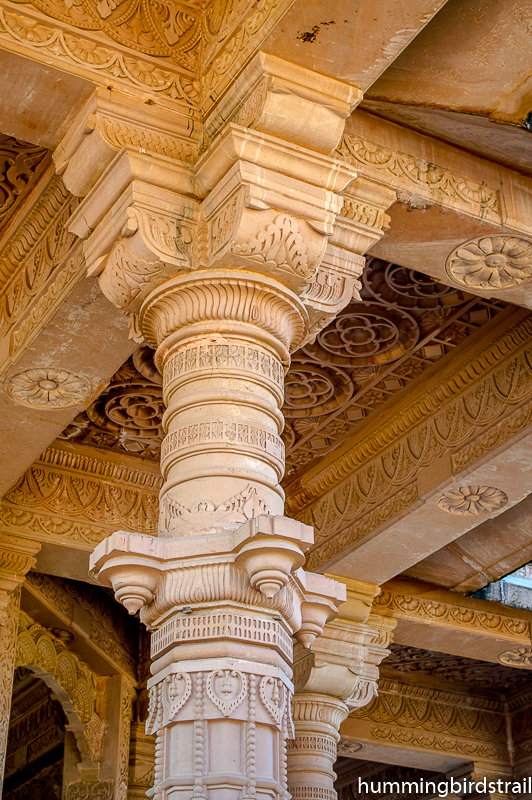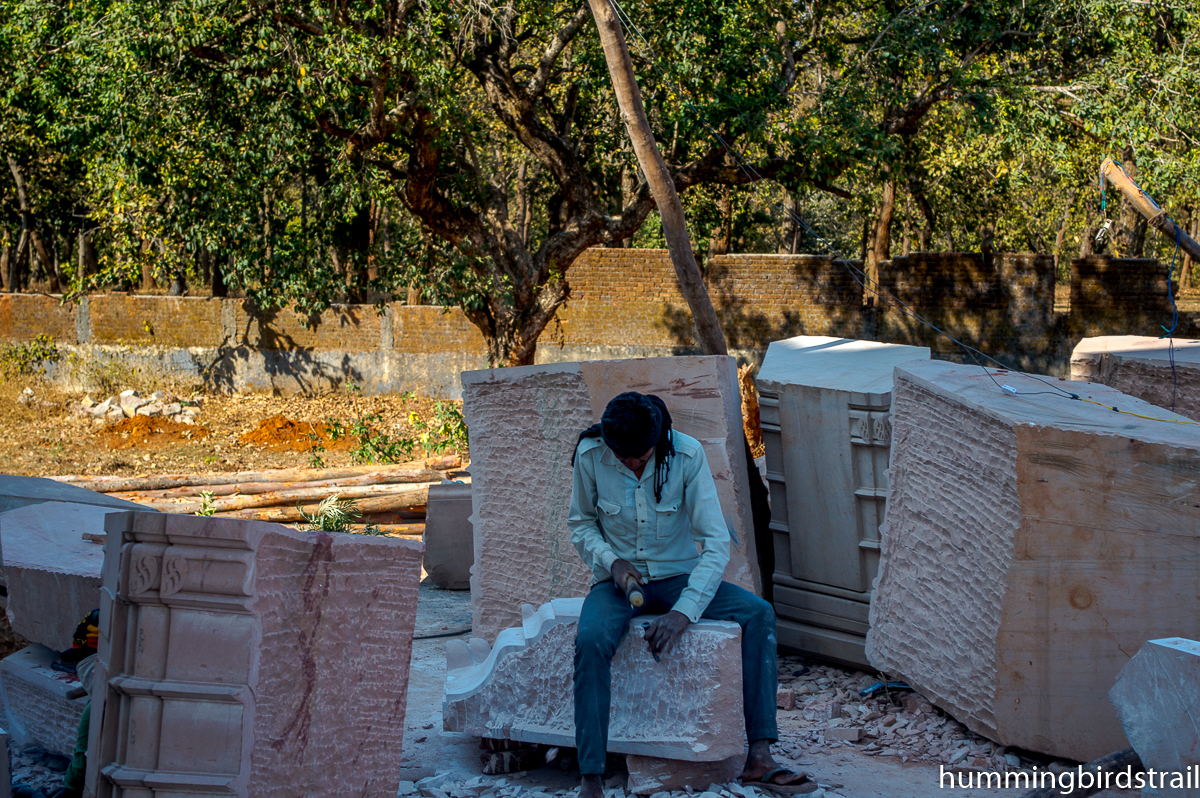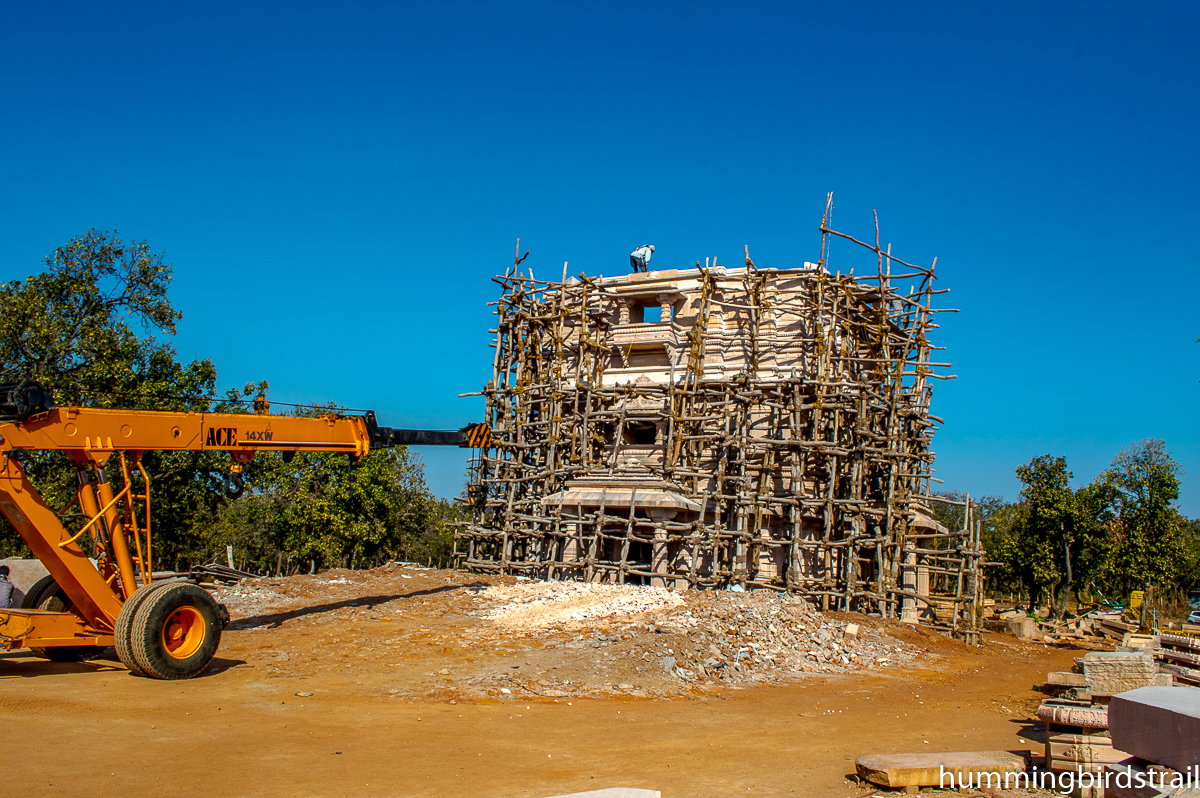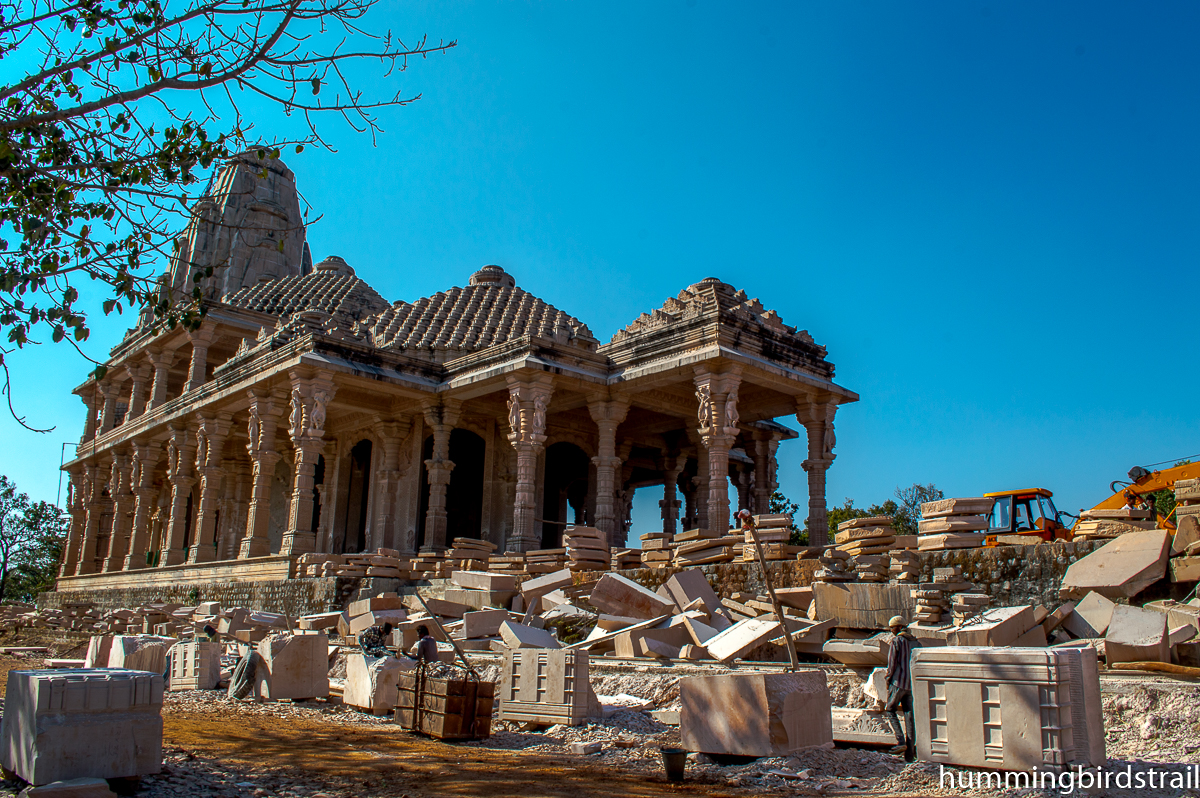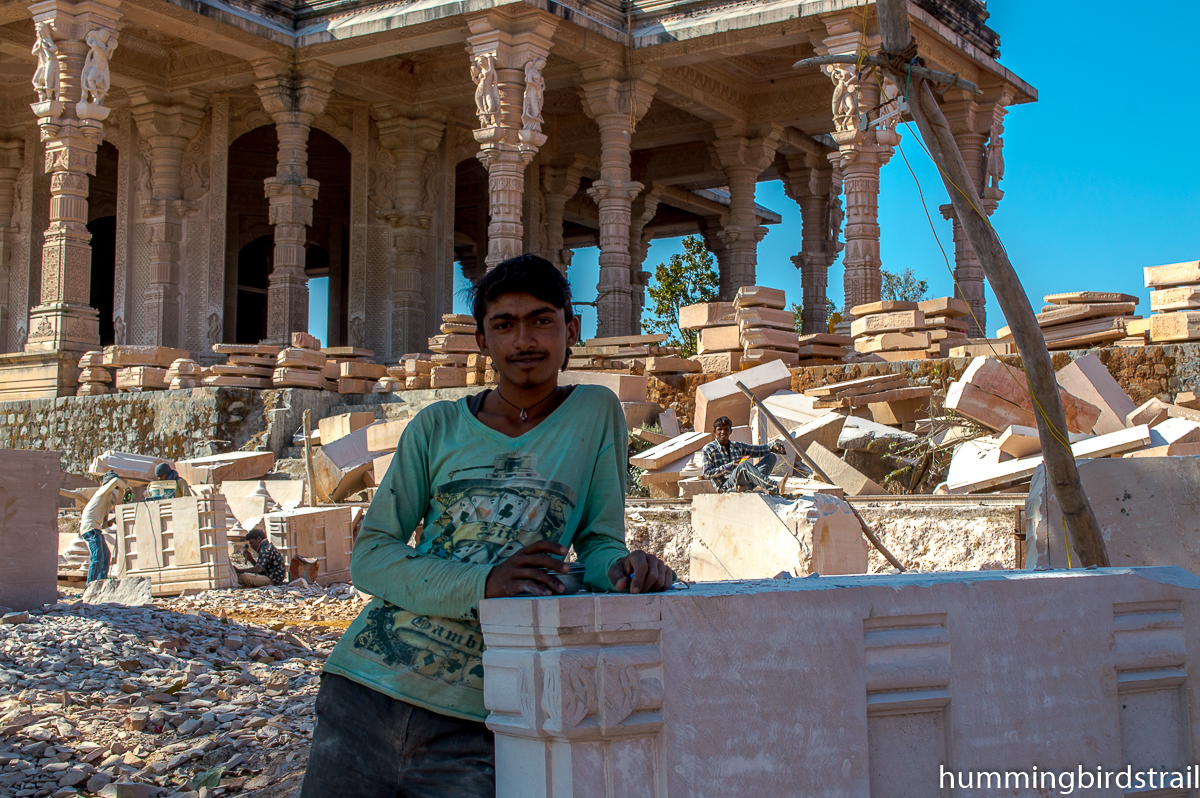 They say that the Universal Destroyer or Lord Shiva, destroyed the Tripura (The Three Cities), albeit not as Shiva, but as Tripurantak, one of his multiple aspects of manifestation. Mythology says that a Demon named Mayasura (Demon of Illusion) had built these three cities of unparalleled wealth, prosperity and exuberance, on the earth, the sky and in heaven. However, it was necessary to end the display of dominance of Mayasura's creation, because the foundations of these cities were not based on virtues, but rather on vices. When these cities were destroyed, the ashes were kept on Mount Kailash, and heaven, but a third portion was strewn over Amarkantak. So, comes the legend of immortality, where the ashes turned into Shiva Lingas (Symbols of Shiva), one of which is found in Jwaleshwar. We also paid homage to the Lord at Jwaleshwar temple.
Our next destination was Yantra Mandir. The first thing that struck me, and is bound to strike anybody about this temple was the marvellous architecture. The beginning of surprises was right at the entrance or the gate, adorned by the busts of four Devis (goddesses); Kali, Lakshmi, Bhuwaneshwari and Saraswati.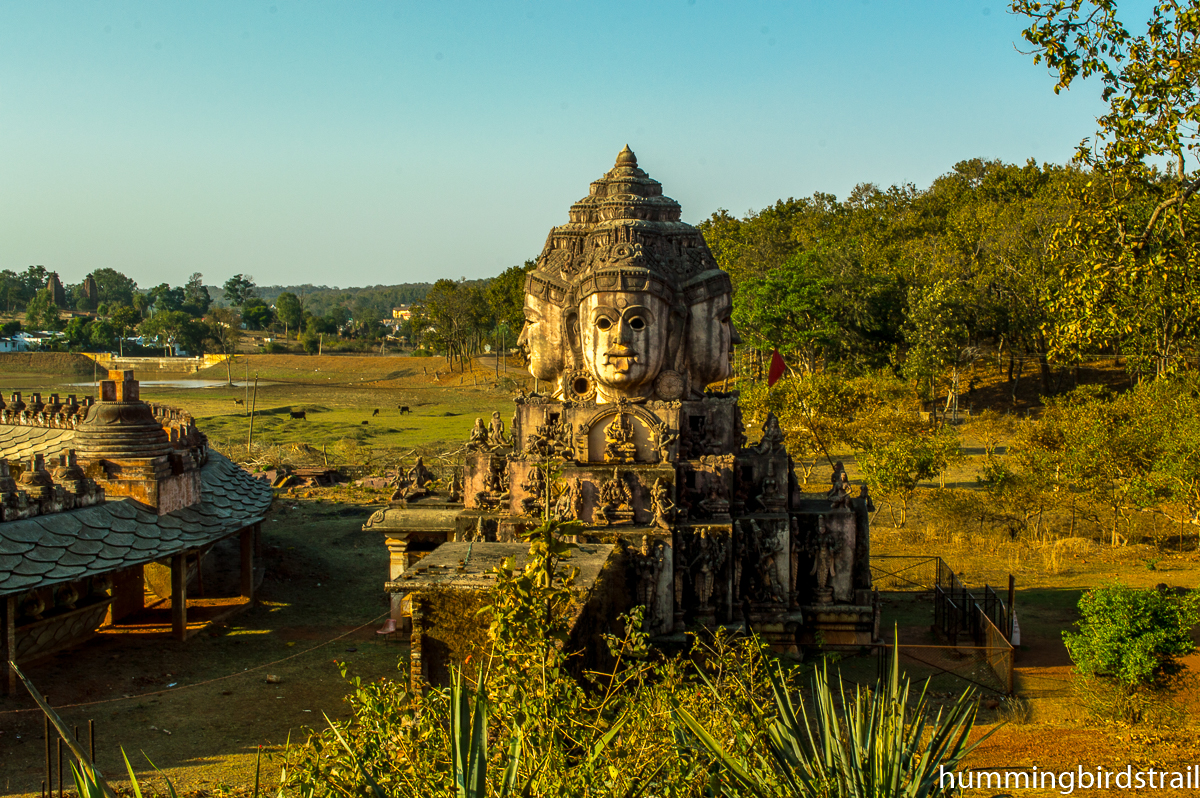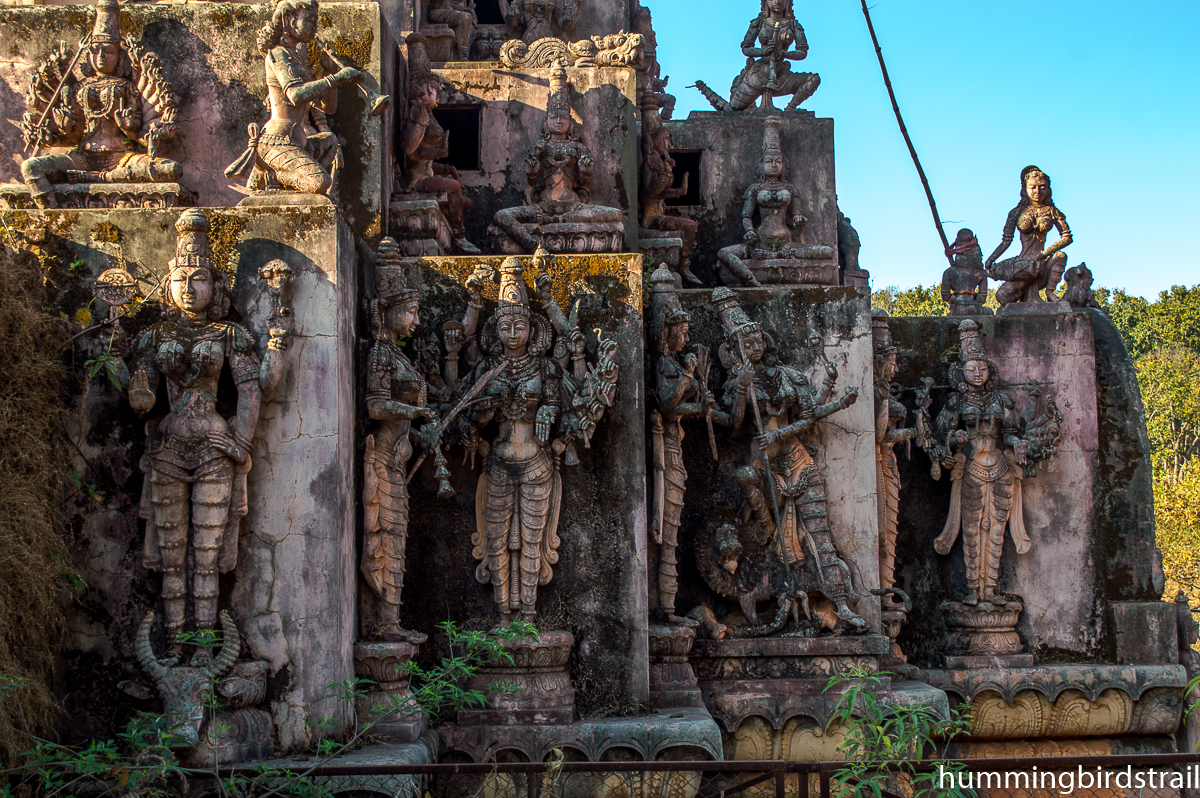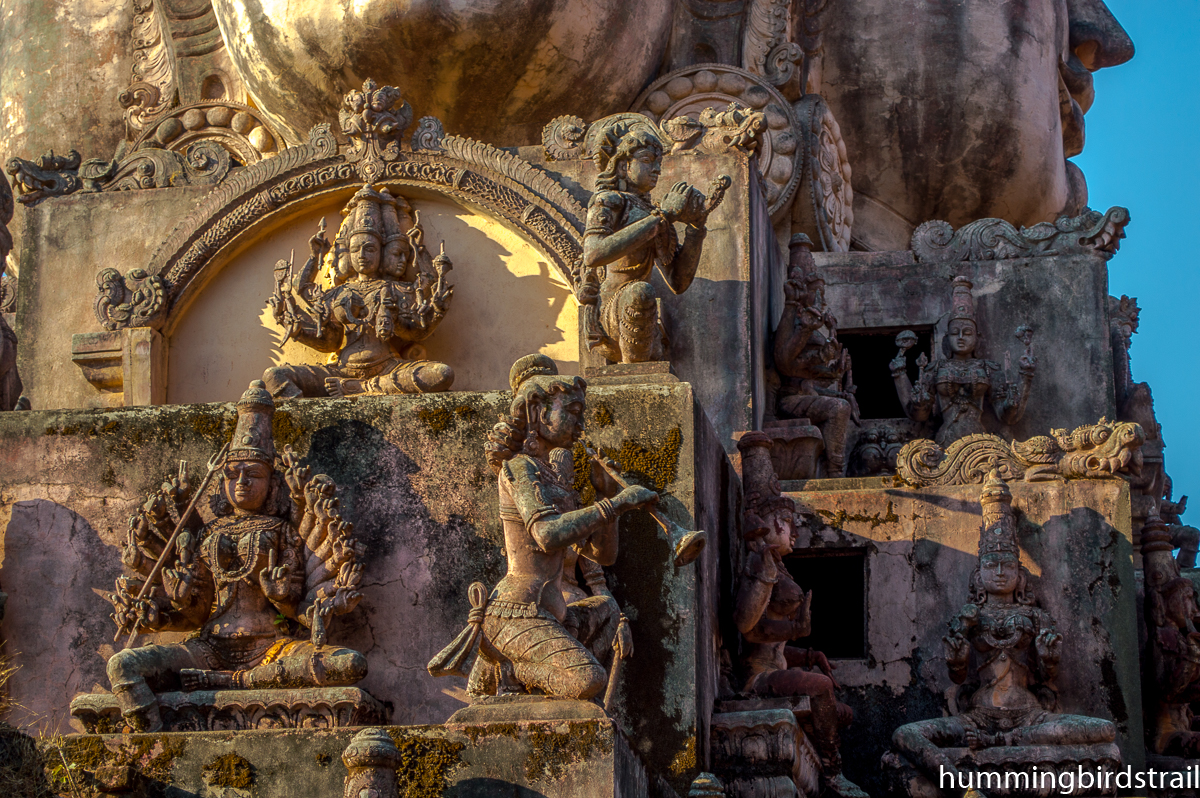 The architectural geometry of the temple is such that it is synchronised with stellar and planetary movements as per Tantrik calendar (Tantra in eastern philosophy, is a ritualistic path of attaining elevated consciousness). This temple is a geometric representation of Primal Force, Maha Shakti. It was believed that the architecture was laid down by ancient Indian sage Agasthya but it was documented that Swami Shukdevanadaji of Atal Akhada was the founder of this temple (Akhada is a system of imposing self discipline by training in both martial arts as well as the art of renunciation and spiritual elevation).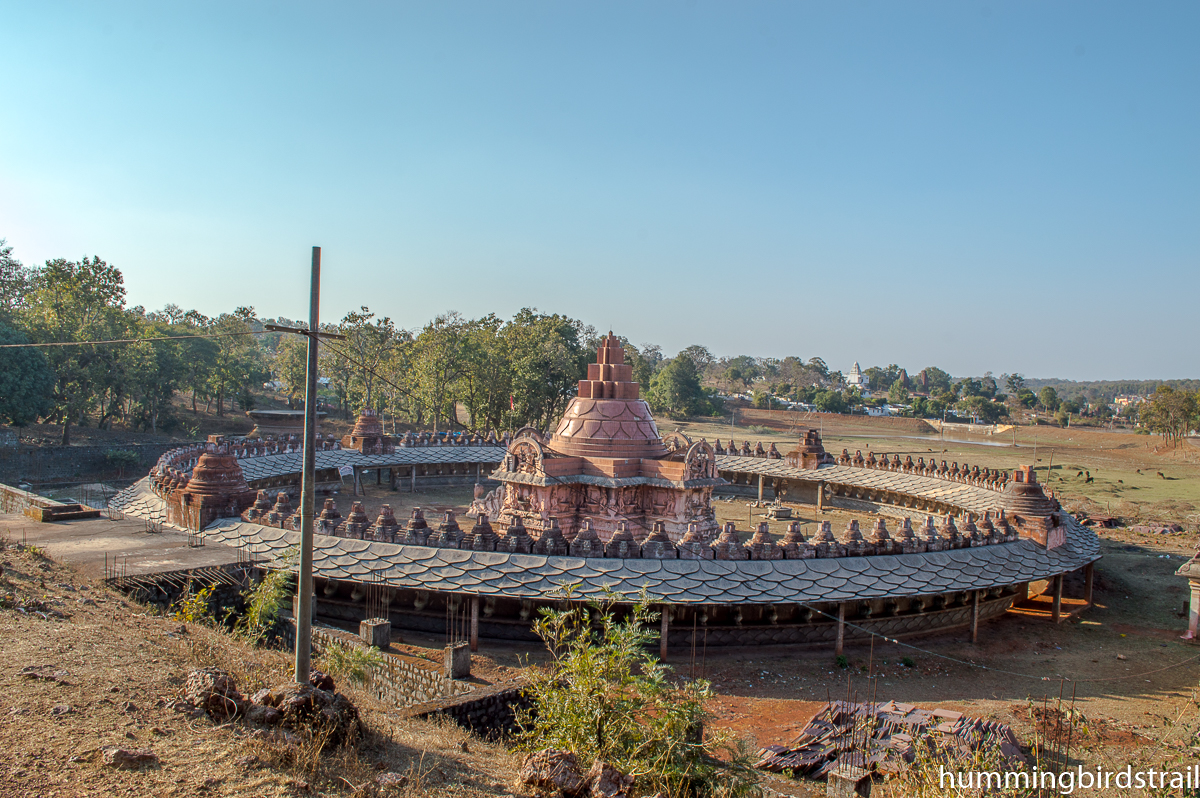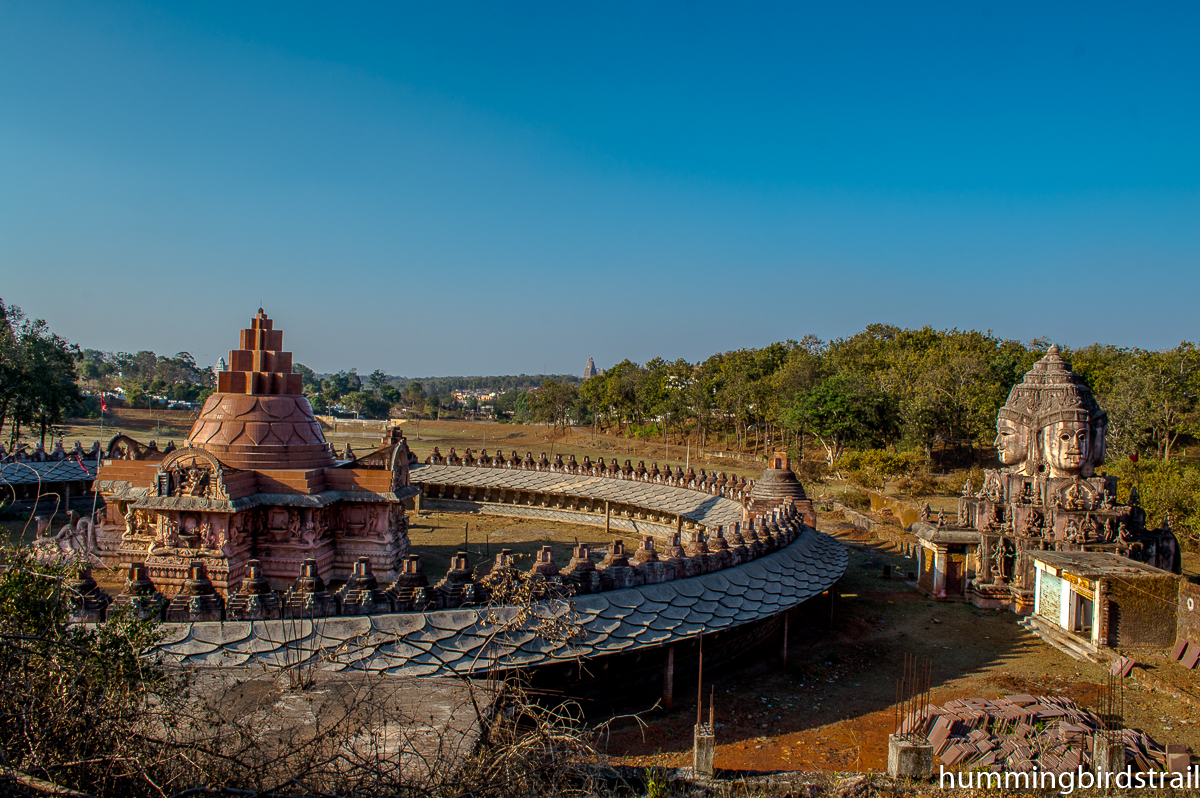 The worship of Sri Vidya is done here with mysterious system of worshipping of supreme power in the form of Divine mother as beautiful goddess Tripura Sundari or the Empress of beauty among the three worlds. This temple's excellent sculpture left us spellbound.
After this magical place, we headed to the ancient temples of Kalachuri. These temples were built by Kalachuri Maharaja Karnaveda between 1042 to 1072 AD. These temples are the perfect showcases of marvellous Indian architecture. The peace engulfing this ancient niche, seemed to be the most perfect place worth resting at and allowing for some scope of introspection, or better, a span of meditation.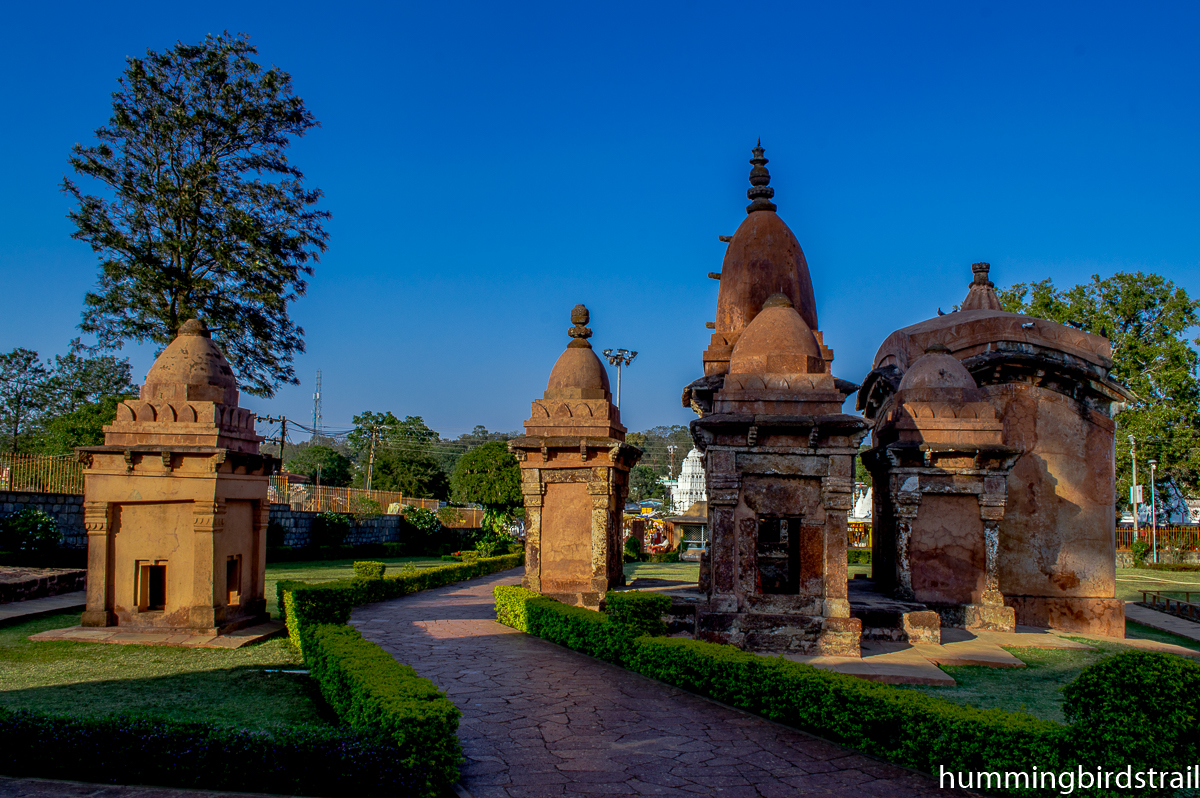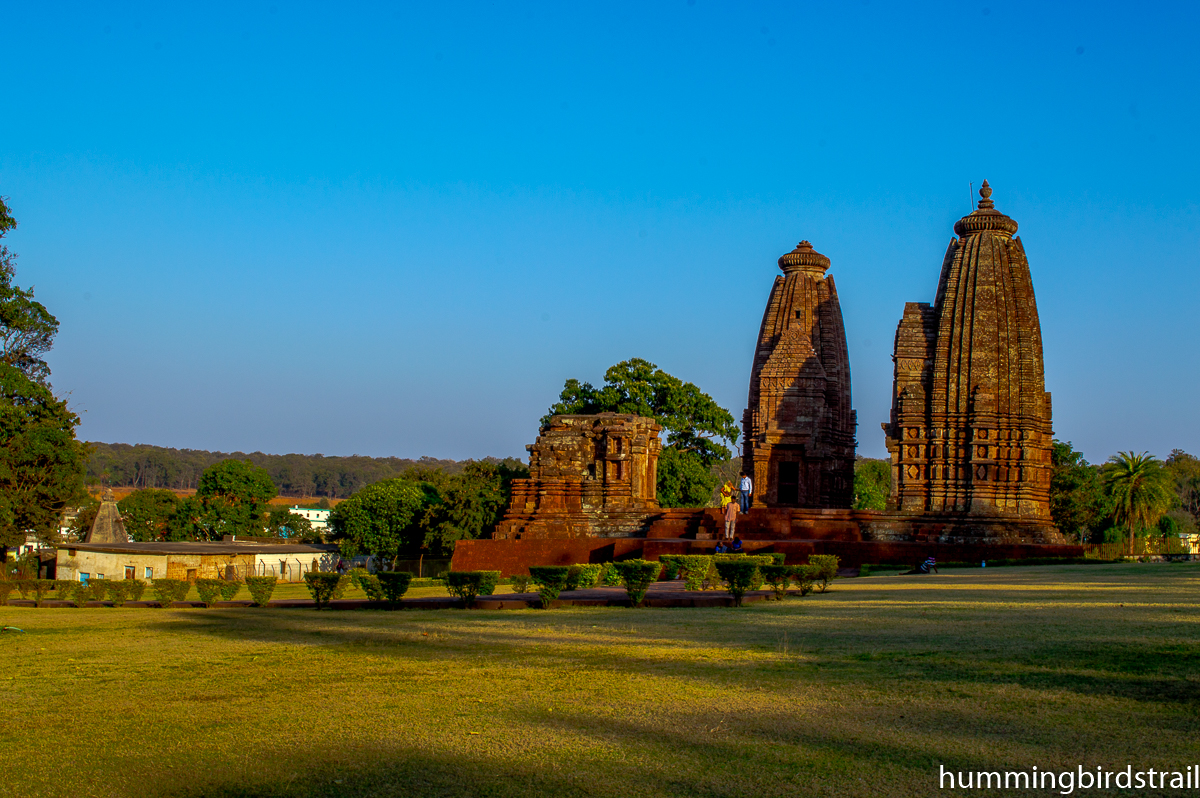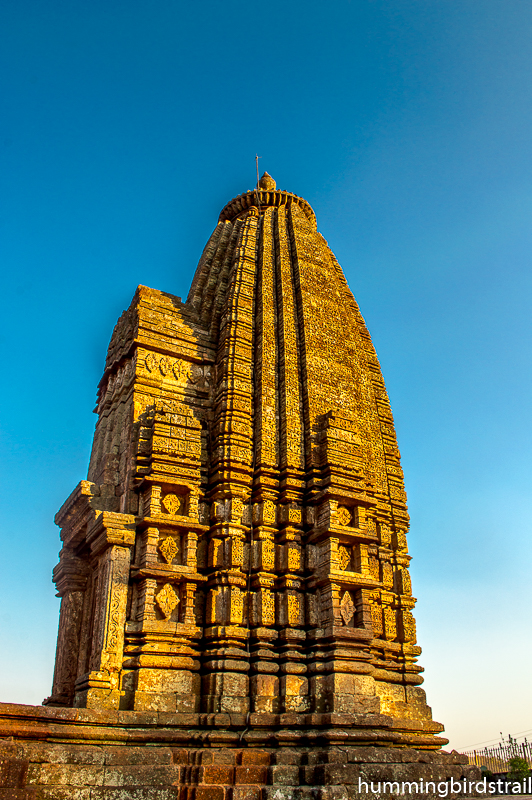 Next, we arrived at the Narmada Kund on foot from there. This is the most magical and peaceful part of Amarkantak, so much that the nearly setting sun almost sent us to a meditative state of mind. The gold of the dying day painted the white temples of Mata Narmada so beautifully, that the myriad hues of corals and yellows  reflected the warmth of a mother's elysian lap, especially at the place where the Narmada river originates. And who doesn't  know that rivers have since long been considered as mothers?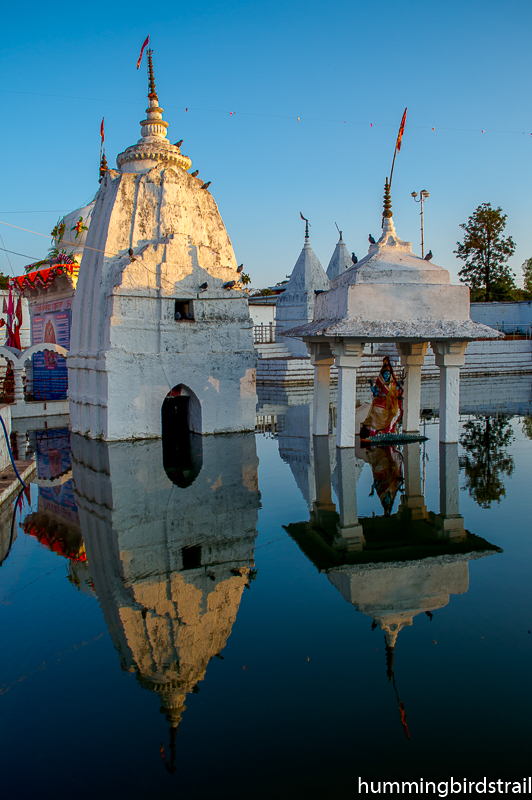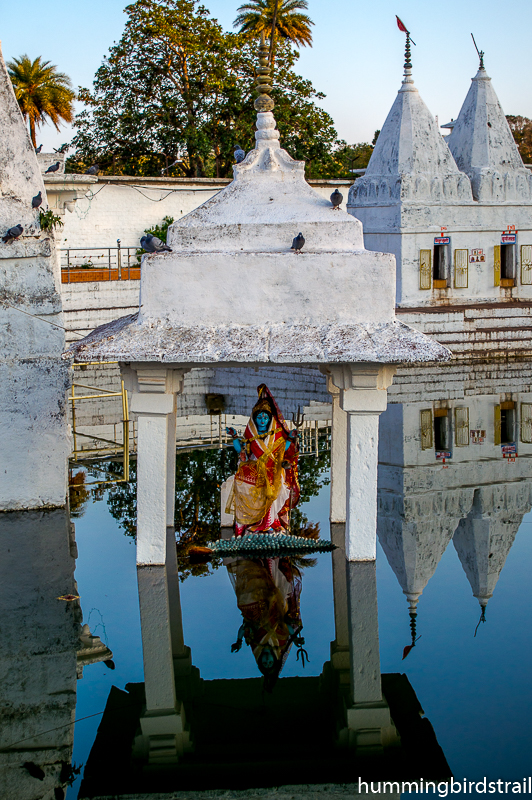 The river Narmada is represented in deity form, as an idol of Mata Narmada, perched on her crocodile, that's considered as her vahana  (animal companion).
Then, there was a statue of elephant, about which it is believed that if you can cross under its belly, you will be blessed. Apparently, a politician once tried, but couldn't.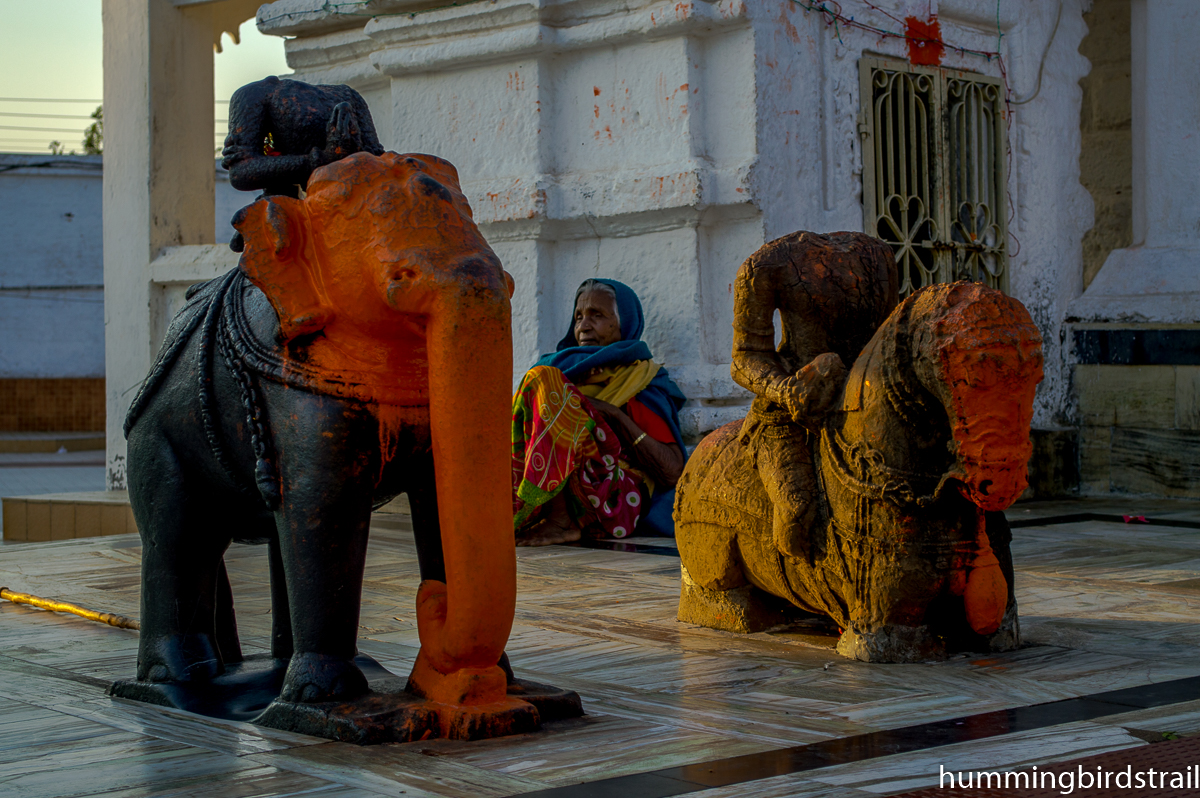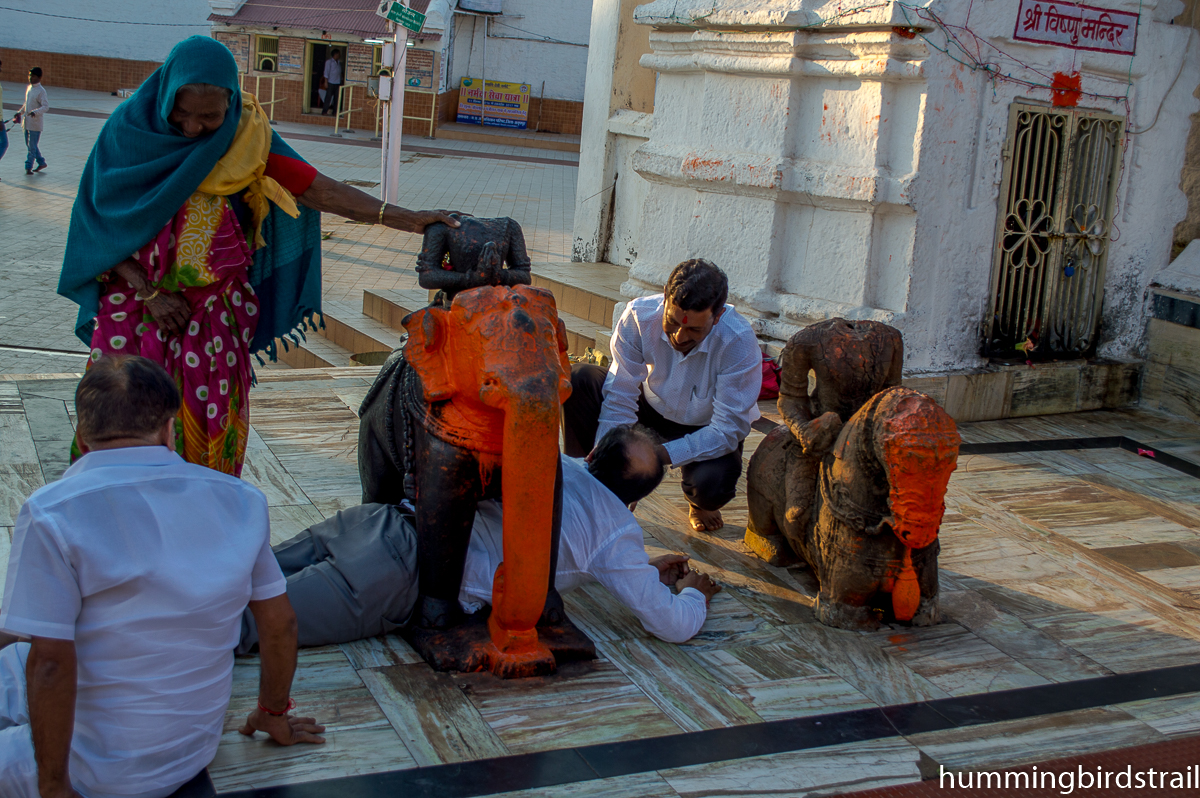 The last stop for us was the banks of the River Sone, where we just sat and saw the sun disappear behind the horizon.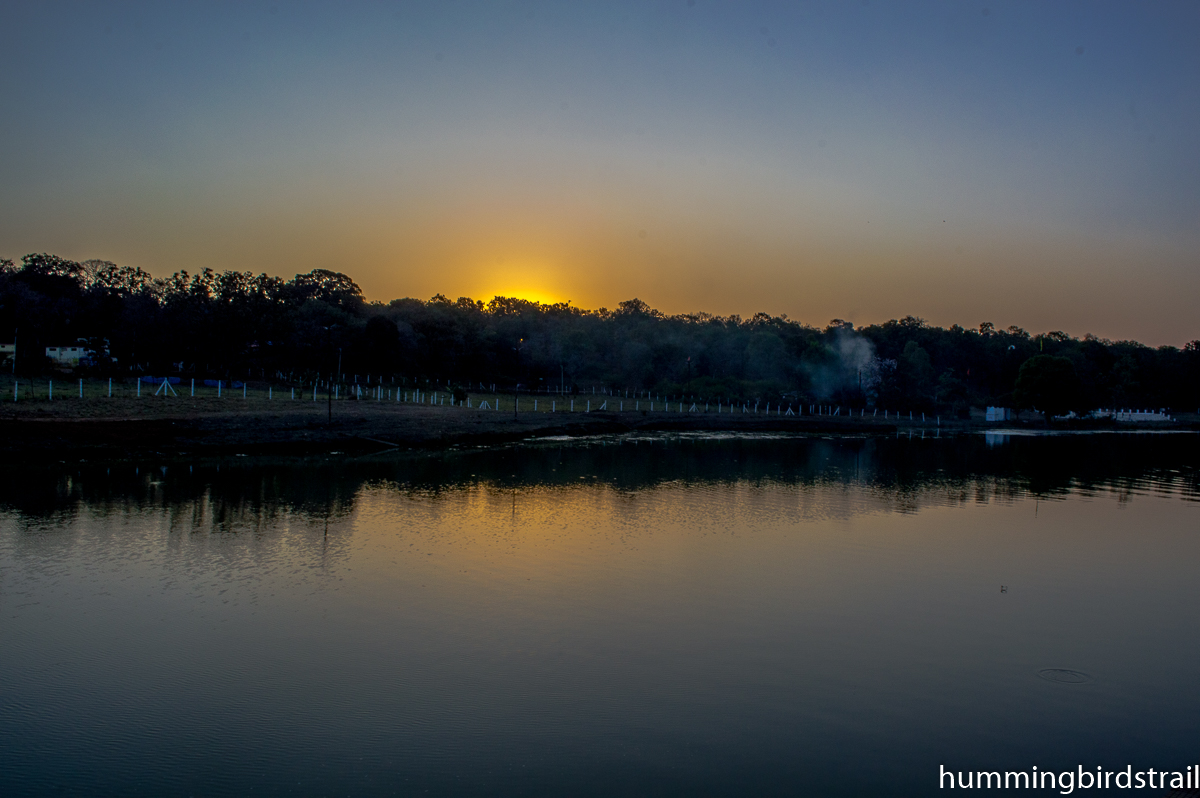 The atmosphere was amazing. The environment was so enchanting, that created an impression of such magnitude my mind and I still feel the call of Amarkantak and wish to visit the Pilgrimage of Clouds again.
How to reach:
Nearest Cities to Amarkantak:
Bilaspur 117 km
Korba 168 km
Raipur 206 km
Bhilai 228 km
Durg 227 km
Jabalpur 223 km
Rewa 271 km
Mirzapur(UP) 398 km
Allahabad 396 km
Amarkanak by Rail:
There is no railway station in Amarkantak. The nearest railway station is Pendra Road, which is at Bilaspur district, Chahattisgarh. The station code is PND. It is roughly 40 km away from Amarkantak. From Pendra Road railway station hired taxis and Sumo services are available to take you to Amarkantak.  The hired taxies will charge 5000 to 9000 INR depending upon the cars. Shared taxi services are also available which will charge 300 INR per seat.
Amarkanak by Air:
International Airport near Amarkantak:
Dr. Babasaheb Ambedkar International Airport, Nagpur is approximately 442 km away from Aamarkantaka. Direct trains are available from Nagpur to Pendra Road Railway station. Air Arabia, Air Asia, Qatar Airways are the international operators are available in this airport as well as the domestic operators like Air India, Go Air, IndiGo, Jet Airways.
Lal Bahadur Shastri International Airport, Varanasi is located at 470 km roughly from Amarkantak. Direct trains are available for Pendra Road Railway station.
Air India Express, Buddha Air, Sri Lankan Airlines (Seasonal), Thai Smile (Seasonal), Thai Air Asia are the International operator with other domestic operators like Air India, Jet Airways, Spice Jet, IndiGo, Vistara are available.
Domestic Airports near Amarkantak:

Swami Vivekananda Airport, Raipur
Jabalpur Airport or Dumna Airport
Khajuraho Airport of Civil Aerodrome Khajuraho is located at 420 km approximately from Amarkantak. Trains are available for Pendra Road Railway Station from Satna Railway station which is located 120 km approximately from Khajuraho. Otherwise taxi services are available which will take 8 to 10 hours to be at Amarkantak depending upon the traffic. The taxies will charge 9000 to 15000 INR approximately.
Amarkantak by Road:
From Bilaspur: State owned bus services are available for Amarkantak. Ac, non-Ac, Sleeper buses are available from Amarkantak. Apart from that hired taxies are also available.
From Korba: State owned bus services as well as private operators are available with AC and non-AC bus. Hired taxies are also available
From Raipur: The bus operators of Raipur are Mahendra Travels, Kanker Roadways, Royal Travels. Hired taxi services are available and it is a two day trip to Amarkantak and it will charge 5000 to 7000 per day depending upon the types of car.
From Bhilai: State owned and private bus services are available from Bhilai at a good frequency. AC, Non-AC  buses are available and can be booked online also.
From Durg:  State owned and private bus services are available from Durg. AC, Non-AC  buses are available and can be booked online also.
From Raipur: Sate own and private buses are available in this route . Hired taxi services are available and it is a two day trip to Amarkantak and it will charge 5000 to 7000 per day depending upon the types of car.
Hotels at Amarkantak:
There are plenty of hotels available between INR 500 to  7000/. We stayed at Hotel Sri Mata Sadan which is near to Yantra Mandir. They charged 2200 INR for double bed room to us.  There are also Bharat Sevasharm Sangha which offers accommodation at a cheap rate.