India is a land of cultural diversity, and yet, our festivals are the common ropes that bind this huge multi-ethnic crowd together. And to say the least, we have a whole load of festivities rolling through the year, again thanks to our rich cultural legacy left over by generations of traditional mingling amongst ourselves. July is marked with one of the most awaited and pompous festivals.
Ratha(Chariot) of Mahesh would be rolled again this year amid six hundred years of glorious history and myth. So famous is this story that we have forever heard of it from parents, grandparents or been enthralled by works of Rishi (Sage) Bankim Chandra Chattopadhyay, famous 18th century novelist and reformist, and author of our national song Vande Mataram, composed for his novel 'Ananda Math'.
It was a seemingly brave decision on our part to partake this most-awaited journey to Mahesh, because of the humongous crowd of lakhs of people who throng the place on this auspicious day, notwithstanding the chances of ensuing stampedes. While Puri in the state of Odisha in India, has been most famous for this, the neighbouring state of West Bengal isn't far behind either. It is not surprising that the legacy of this Chariot Festival is played out in full galore across the whole state, but most famously in Mahesh in Serampore, located in Hooghly District in the state of West Bengal in India.
We travelled by train to Serampore and from there to Mahesh. This chariot in question, is of Lord Jagannath, an incarnation of Lord Vishnu. Our first stop in Mahesh was at 'Mashir Bari'. Legends say that this famous Ratha Yatra takes place because Lord Jagannath and his elder brother Balabhadra, left their sister Subhadra at their Mashi's (maternal aunt's) place so that they could go begging, after Goddess Lakshmi (the goddess of wealth and prosperity) left their abode of Shri Mandira, leaving them in extreme penury.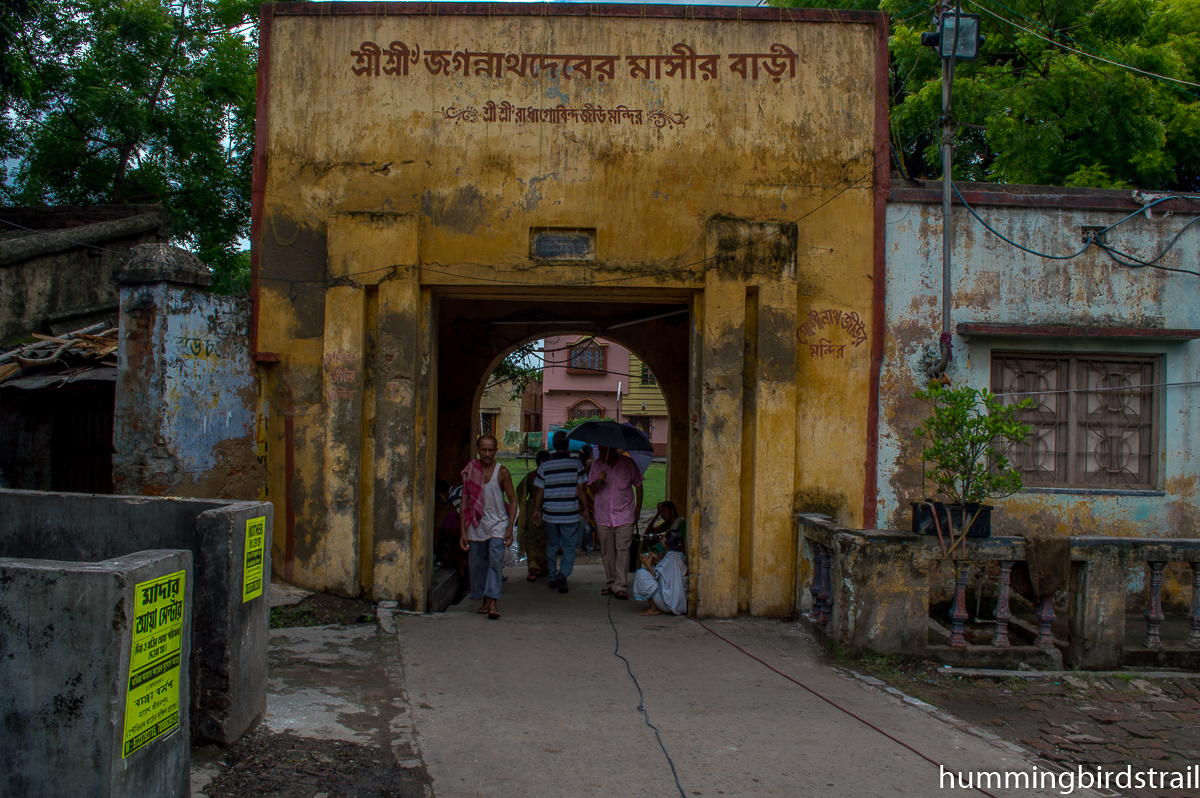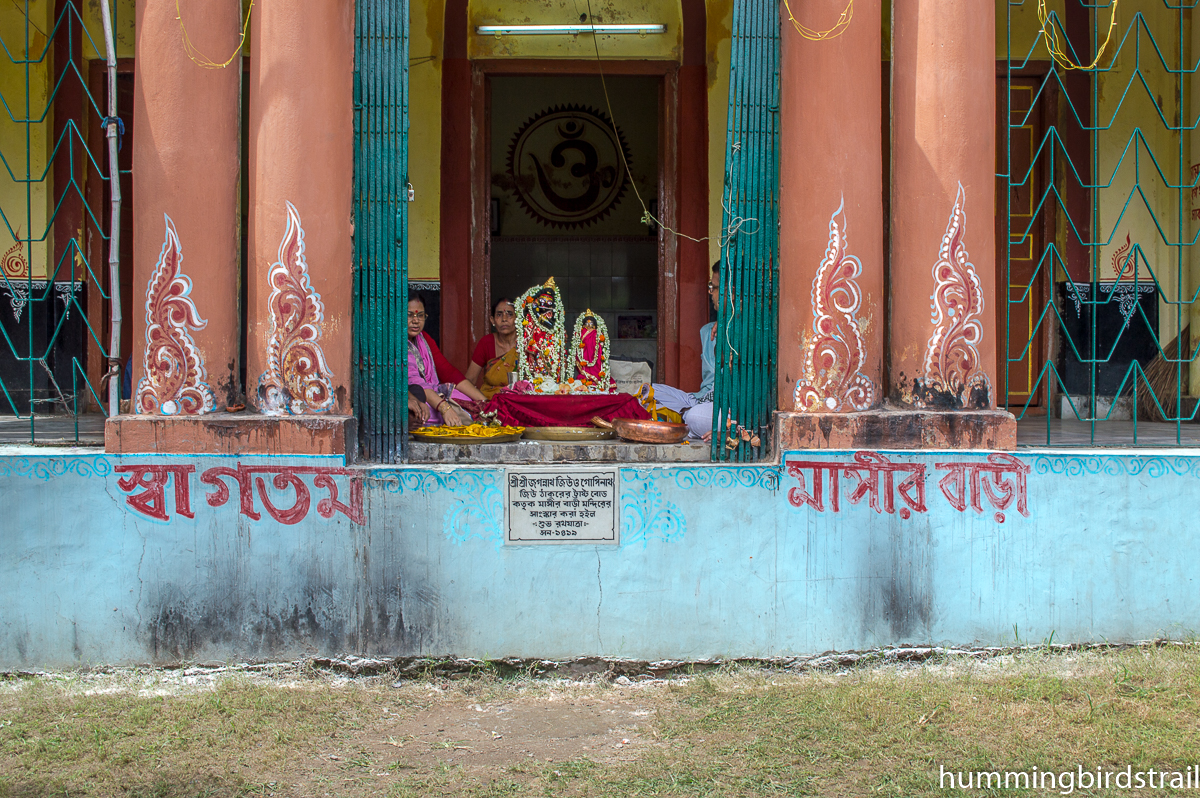 Jagannath literally translates into the 'Lord of the Universe', which according to Hindu mythology, Lord Vishnu is, because Brahma is the creator, He is the saviour, and Lord Shiva is the destroyer. Taken together, they are the holy trinity, which again, is something analogous to the concept of the Holy Trinity in Christianity, though the roles might not be the same. The idol of the Lord along with his elder brother Balabhadra and sister Subhadra, are carved out of Neem (Azaridachta) wood, which in case of the Puri Jagannath is actually driftwood collected from the ocean!!
It is pertinent to mention here that even though the State of Odisha in India has been famous for the Ratha Yatra organized there every year on this day, Lord Chaitanya, the proponent of the Vaishnavite movement in India, was actually born in Nabadwip, a small village in Nadiya District of West Bengal.
Our next stop would be the Jagannath Temple, and we left for there, as the drama kept unfolding in front of us. It is said that Drubananda Brahmachari, a famous sage of Bengal went to Puri as a part of his pilgrimage and wished to offer Bhoga (Food for God), but the Temple authorities did not allow him to do so. Then he decided to fast to death, but was ordered in a state of semi-consciousness by Lord Jagannath to return to the banks of Bhagirathi at Mahesh, Bengal and establish a temple for him and feed him Bhoga there. Needless to mention, he did exactly so, carving the first idol at Mahesh out of Daru Brahma (neem wood). The Lord in Jagannath form, is therefore sometimes referred to as Darubrahman.
As the legends came in flashes to us, we found ourselves finally confronting the colossal four storeyed and fifty feet high Chariot with a dozen iron wheels and nine Shikharas (peaks, or rising towers famous in Hindu Temple Architecture).
Myth says that rainfall is mandatory during Ratha Yatra and as a steady drizzle soon translated to a downpour, we took shelter under a nearby shed, finally in the premises of the age old festival which was first observed at 1396, started by Kamalakar Piplai, the son of a Zamindar (landlord) of the Sunderbans area and also one of favourite disciples of Shri Chaitanya Mahaprabhu.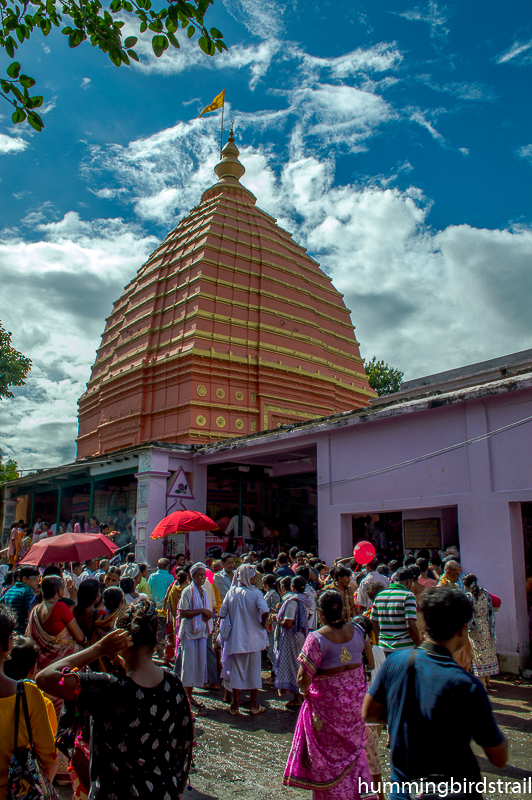 Though Kamalakar's initial chariot isn't the present one. History is obscure about a number of early chariots, that have been lost, and some wooden chariots that got burnt. The instant iron chariot was donated in 1885 by Dewan Krishanchandra Basu, designed and built by Martin Burn, ironically an Englishman, and a Christian. The deep roots of our religious harmony struck me again.
As the downpour trickled back to a light shower, pilgrims from around the world emerged, eager to obtain salvation by merely touching the ropes of this chariot. The sun broke out striking the peak of the Chariot, transforming it into a massive red jewel on the face of an ever-shifting landscape.
We, after our first encounter with this leviathan structure of generations of myth, headed for the Jagannath Temple, where Shri Chaitanya Mahaprabhu was supposed to have visited on his way on his famous journey to Puri, where he was absorbed in deep Samadhi (a state of Meditative consciousness).
Dhrubananda requested him to take charge of this temple, but he chose Kamalakar among his 12 gopalas (something akin to the Apostles) to be the Mohanta (chief administrator) of this temple. The temple was overcrowded, because the deities were getting ready for their chariot ride. Though the Puri idols are replaced at regular intervals, as stated earlier; these idols at Mahesh, have been kept unchanged since Brahmananda's time.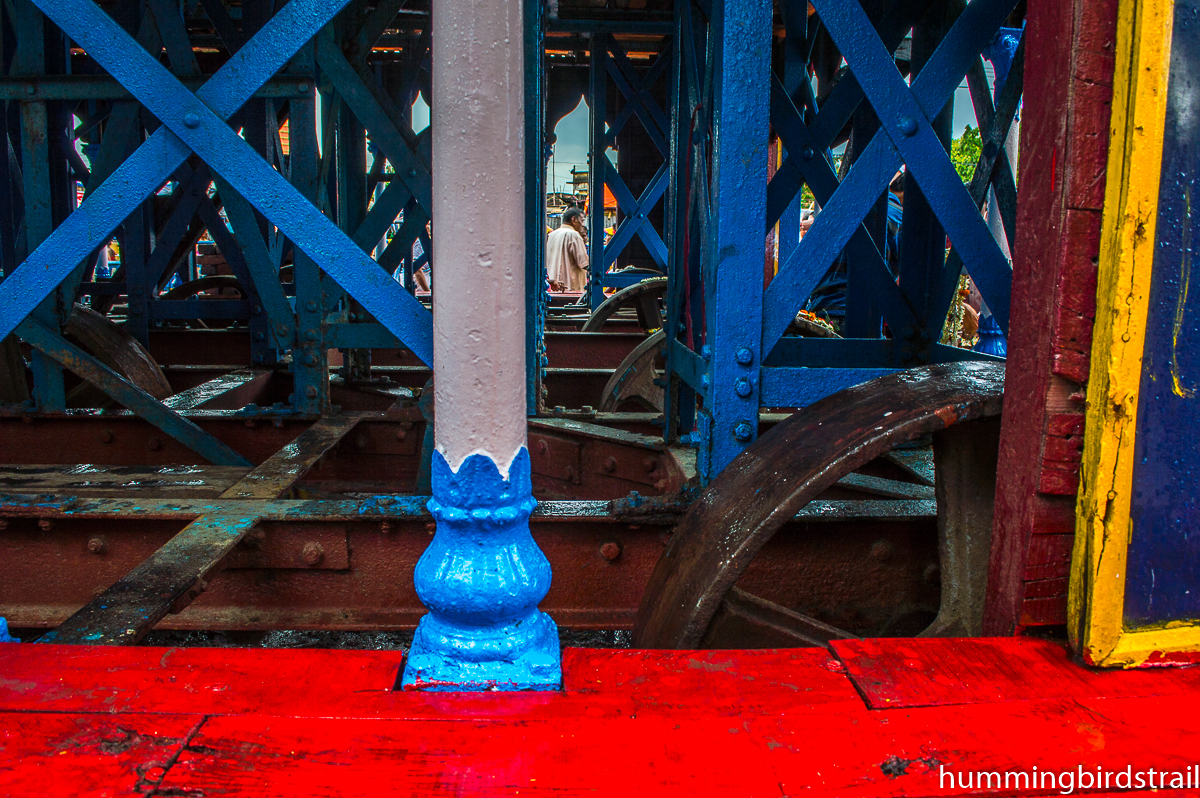 It was now finally time for us to witness the final act, i.e. the actual drawing of this huge chariot. A congregation of priests filed out of the temple balcony and one of them emerged with a heavy ornate embroidered red umbrella resting on an iron rod. He seemed to be having a difficult time managing it, but he waited to cover the idols from the temple to the chariot. The idols emerged covered in red cloth and the smallish crowd too seemed like they had to put in lots of efforts because of the enormous weight of the deities.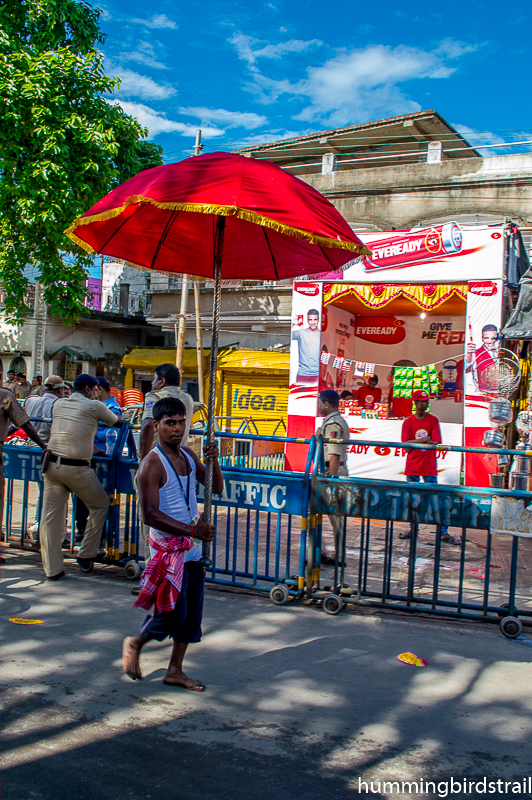 The area was now overcrowded. People were ready to draw the Chariot and many of them were waiting to accompany God on his journey in his grand chariot. Lifting the idols to the top floor of the chariot was again a monumental task, and it was hauled with help of heavy ropes, painstakingly, floor by floor. The process soon reached an ecstatic state as the sea of black heads all shouted "JAI JAGANNATH" (Hail the Lord Jagannath).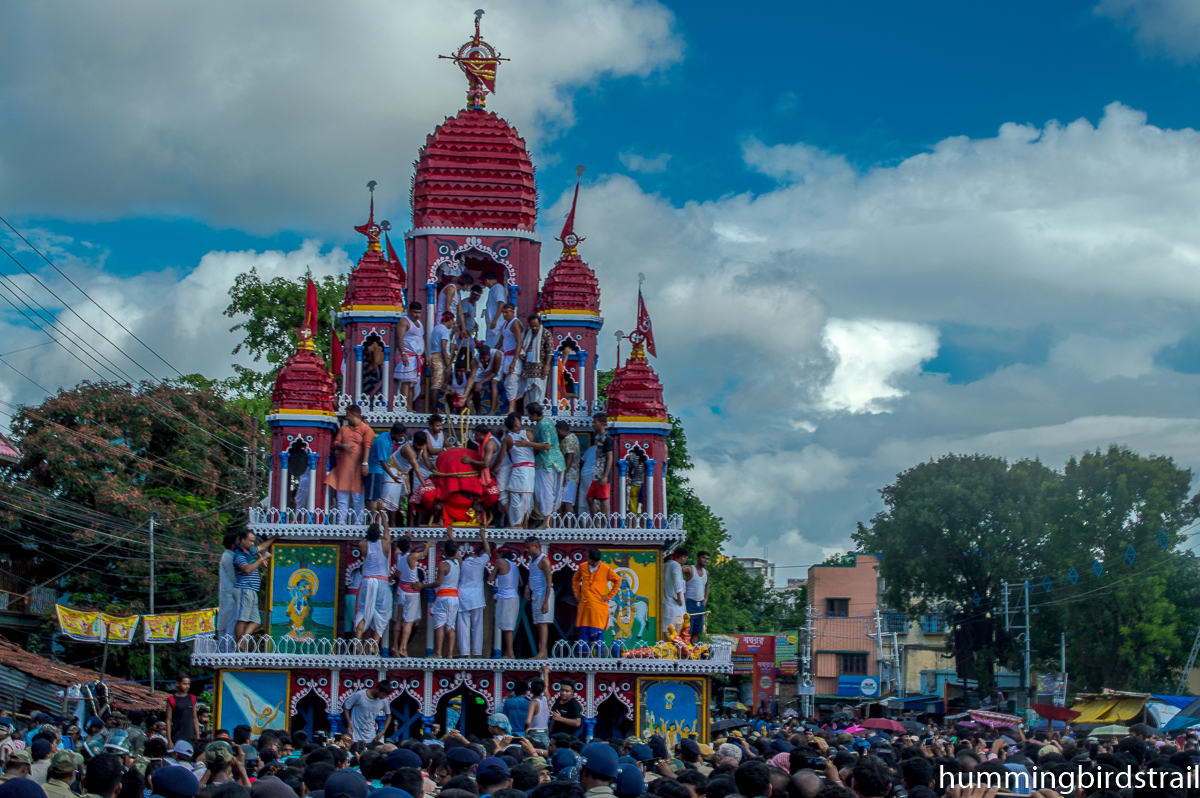 We had to request a nearby house owner to let us climb to his terrace, because the scene around us was making it increasingly difficult to for us to shoot the event. We found the man very generous, but he asked us to remove our shoes because they had a temple inside their house too! We could feel the pride these locals felt when outsiders like us wanted to observe their very own heritage.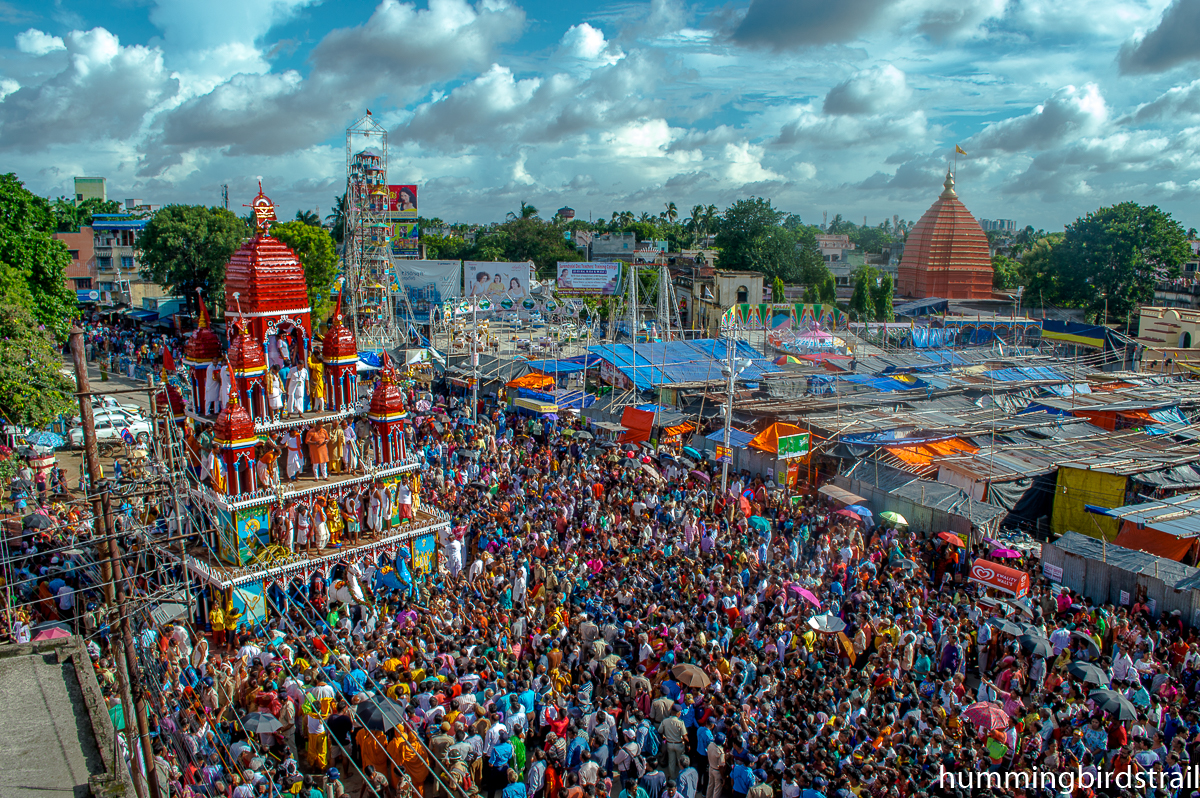 The idols of the Lord are replaced every 12 to 19 years in Puri, during the year when the month of Ashadh in Hindu astrology, falls twice during the same year. The deities are represented without ears or limbs, which again is a long story. It is said that King Indradyumna had a dream that the Lord wanted a temple built for him in his kingdom, and that the king should visit a certain spot where he'd find the material required for creating the idol. It was a log of wood, but no carpenter had tools strong enough to carve it. The king became morose, until Ananta Maharana (Lord Vishwakarma, the mechanic of the Gods) appeared. He however imposed one condition; that as long as he worked, no one should disturb him. After two weeks of incessant working behind closed doors, the king and queen heard no more sound. Upon urging from the queen, the king had to check in himself, and immediately regretted his decision, because Lord Vishwakarma was missing and the idols were left unfinished. However, Lord Vishnu again appeared in the king's dreams and instructed that he'd bestow blessings upon his worshippers in this very form, and hence this form of idol.
The first thing that assailed our senses as we reached the top, was the sea of people all around us. The entire Grand Trunk Road looked like it was crawling with people. Each one of them was desperate to touch the holy rope and maybe, draw the Chariot. The sheer magnitude of effort required to draw the chariot was evident from the elephantine coils of ropes strewn all around, which would require thousands of people collectively pulling it.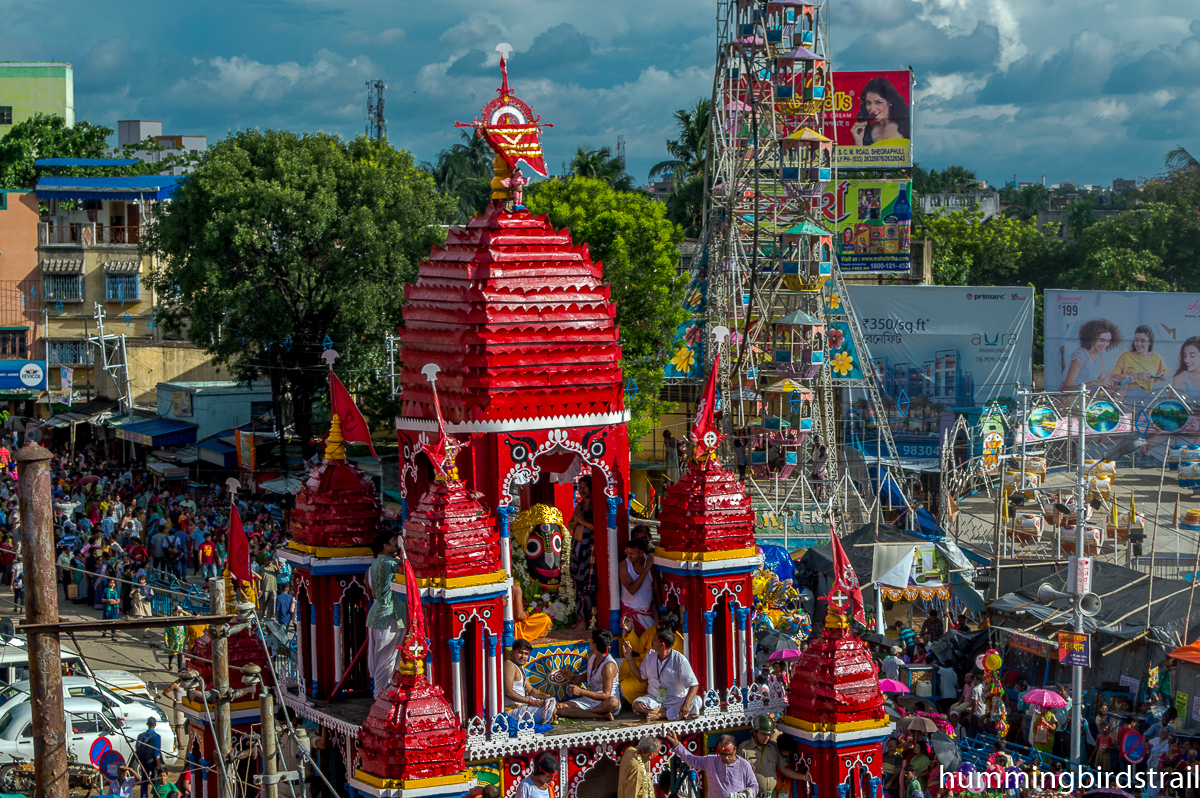 As the humongous crowd made the first tug, to begin rolling the chariot along the famous Grand Trunk Road, the giant wheels went over the heaps of bricks laid down to prevent it from accidentally rolling over. Grand Trunk Road, for those who don't know was the first cross-country highway built by Emperor Sher Shah Suri in the 16th century, over the existing two millennia old trans-continental highway that existed from the times of Emperor Chandragupta Maurya. It starts from Dhaka in Bangladesh and traverses entire northern India and Pakistan, finally terminating in Kabul, Afghanistan.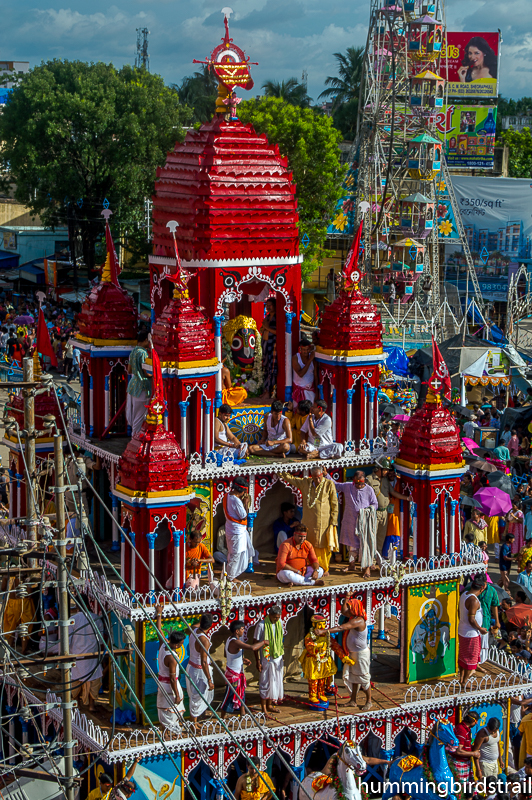 The whole area that had been cordoned by a huge battalion of police force and the RAF, who even had a swarm of drones circling overhead, in order to maintain security.
The scene began scintillating with the crowd of pilgrims starting to sway with sheer ecstasy. People threw money at the chariot, and in turn got their prasadam, which were mostly batasha (sugar candy) or bananas tied with betel leaves.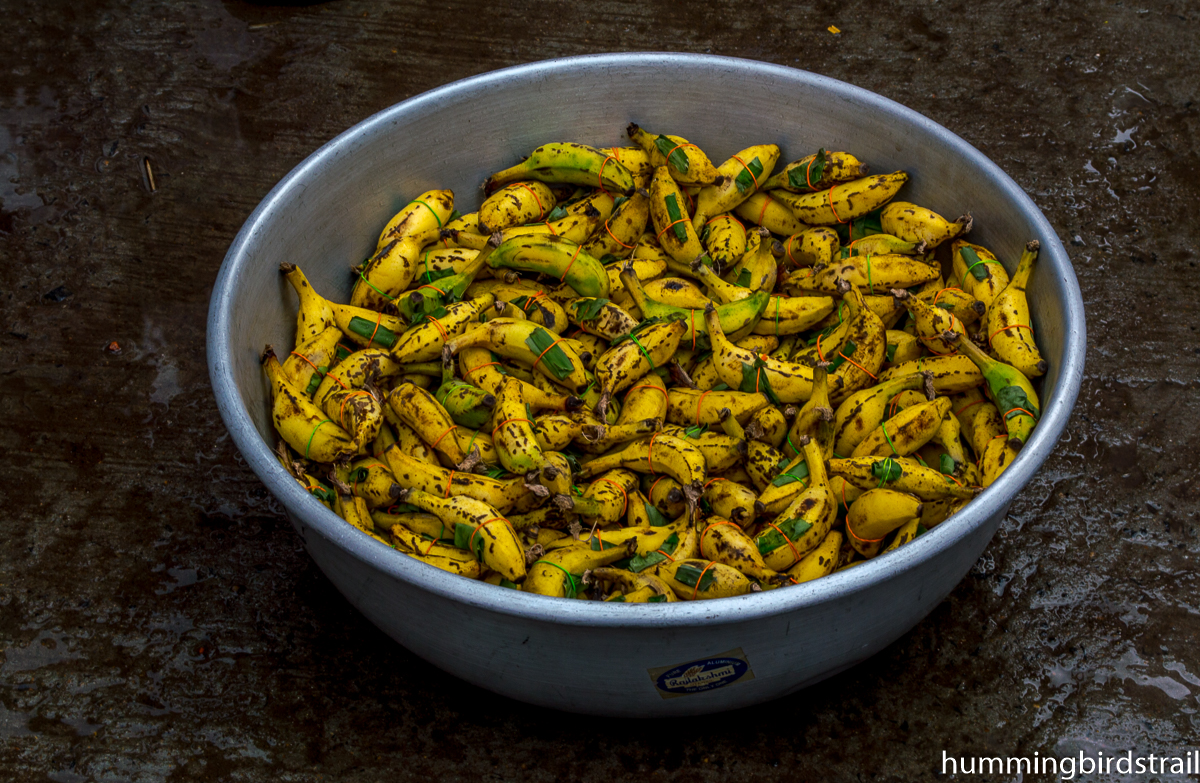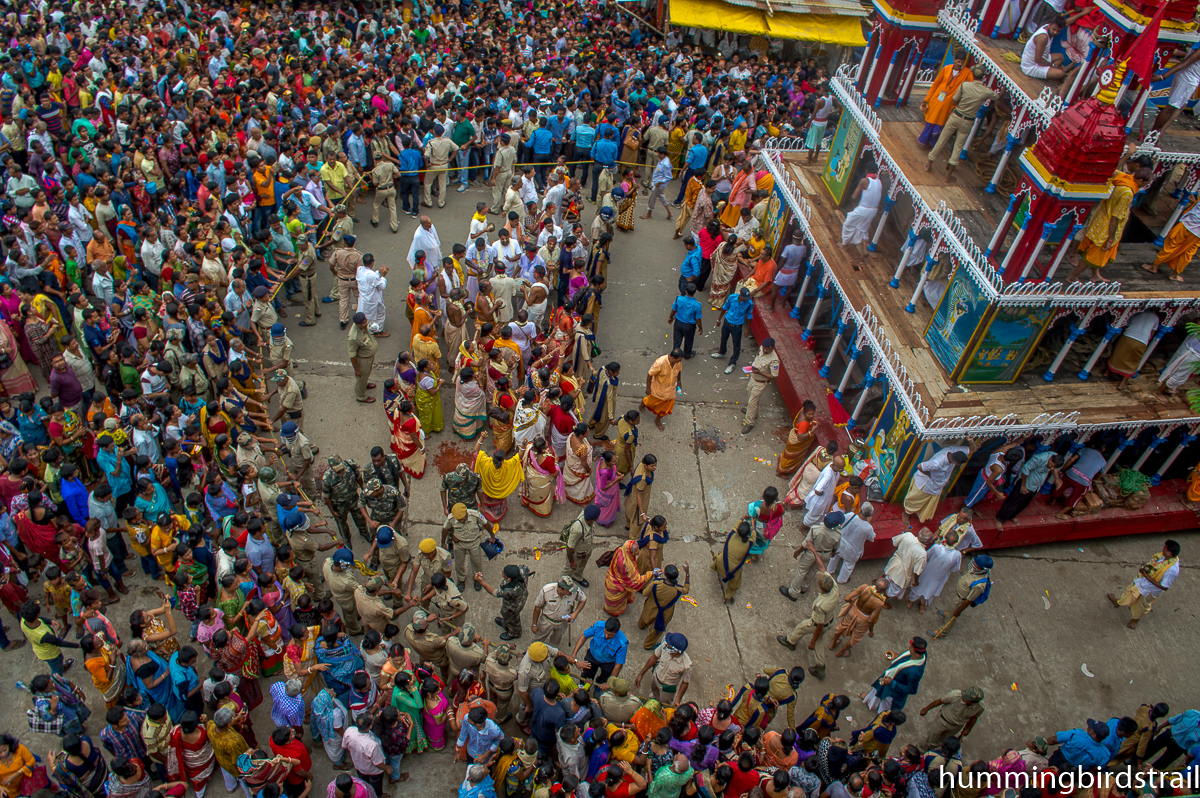 After the chariot had moved on, we got down and entered the fair ground. Nowadays, the commodities sold had changed so far from the tradition we'd seen during our childhood. this Fair of Mahesh was very famous for innovative toys, now only common Chinese toys were there. Despite so many changes, two main attractions of the fair of Ratha Yatra are Fried Papad (wafers) and Jalebi (fried flour batter dipped in sugar syrup) were still there and we were instantly transported back to our childhood.