A market run exclusively by women appears strange to the eyes of our patriarchal society. But came to the land of jewels and you will find applauds galore without much ado that we find in modern society, that seemingly revels in the concept of feminism, even before we correctly decipher what gender equality is.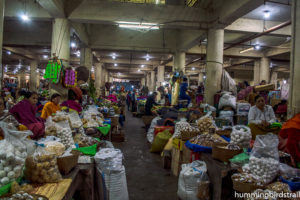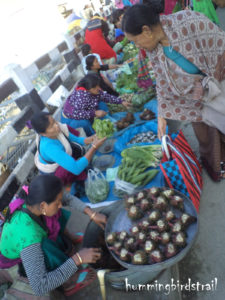 Welcome to the Ima Market, that is one of its kind by the fact that only married women are allowed to trade here in the place that is eponymous with "The Market of Mother".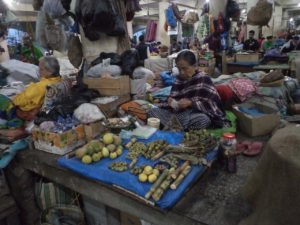 Roving around the place, the thing that primarily assails ones senses is the scent of Soibum and Soidim(Fermented bamboo shoots), a very common culinary ingredient in Manipuri kitchens, besides an array of dried fishes. However, you will find anything starting from grocery and household items, electronic goods to dresses in this market place.
Having drunk all that was there with eyes, the next obvious mission was to satisfy our rumbling stomachs, for which we did not have to look much. There was this quaint and tidy little canteen right upstairs! This place too, needles to mention, was run and managed by women, and had to offer traditional Manipuri dishes, highlighting our stars, i.e. bamboo shoots and dried fish; as well as regular Dal, Rice, Roti, Pokoda, Chowmien et al. Our attempt at trying something traditional was interesting!  Interesting, because both bamboo shoots and dried fish have their own strong taste, that you will either love or you won't. As for us, well; I'd just leave it at that.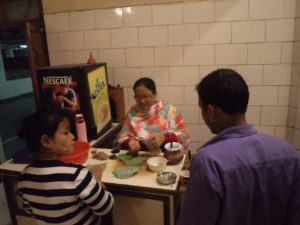 One of the ladies was quite proficient at speaking in broken Hindi, and we managed to interact a bit with her. She had lots to tell us, mostly about their local dishes and recipes. The easy efficiency with which these women or rather Imas or Mothers, managed this market was commendable and note worthy.
Even as we finished our final rounds through the place, the significance of this market knocked our minds.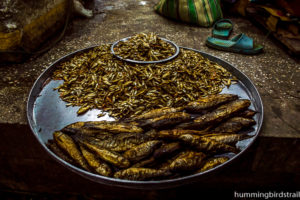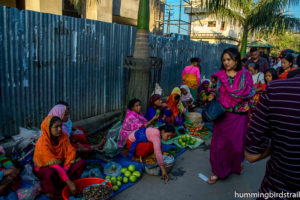 Ima market or Ima Keithel in Manipuri has been culturally significant since its inception during early sixteenth century, or so as per Historians. This place has served as the meeting grounds, and later as the seat of revolution during "Nupi Lan" or "war of women"waged during British Raj. Even today, as the women, impeccably dressed in their traditional Phaneks(sarongs) and Innaphis(shawls) gather and continue creating history, one can't forget about the valour and guts displayed by Manipuri women through the ages(Remember Chitrangada from Mahabharata or recent Irom Sharmila Chanu) . Salute.
Imphal By Air: Bir Tikendrajit International Airport is well connected with Indian Airlines and Indigo with Kolkata, Agartala, Bangalore, New Delhi, Guwahati, Hyderabad, Thiruvananthapuram and Silchar.
Imphal By Rail and Road: Imphal is still not connected by Rail, although construction is still under progress .
Nearest railway stations are Dimapur, which is in Nagaland and Silchar, which is located in Assam. These two railway station are connected with Guwahati Rail way station
Distance of Imphal from Dimapur is 202 KM(Approx) and from Silchar is around 254 KM. The road journey is tiresome for both the roads and full of Assam Riffles checkpost, where they will check the cars thoroughly.
Accommodation in Imphal: There are lots of good hotels at the heart of Imphal. This area is called Thangal Bazar area. Kangla Fort, Ima Market, Taxi Stand are walking distance from it.   We stayed at Hotel Nirmala. It is very famous hotel and located in Thangal Bazar. The rooms are very good quality with budget price. They have beautiful restaurants for serving numerous items including traditional Manipuri foods. Room service is also available here. They have very soft spoken and helpful staffs. We booked a Bolero from this hotel. One of its manager, named Roshan Bhai, he provide cars for tourist.
There are also good quality hotels such as The Classic Hotel, Hotel Imphal,  and these are all can be booked from internet.
Manipur is under Armed Forces (Special Powers) Acts (AFSPA). So you find heavy armoured guards everywhere in Imphal.
All shops will be closed within 6:30 pm in Imphal. After that very less people you see on the roads except these guards.